Corunna Brick
Corunna, Michigan
---
---
Wolverine Brick Company

This photo is dated August 8, 1916. Here we see several domed type kilns, where the bricks were fired. Previous to this type of curing, the bricks were simply left out side to allow the sun to dry the bricks.
Also the photo shows a flat car on rails that was used to move the bricks to and from the kilns.
---
The brick plant at Corunna has had several different names since it began mining clay in the very early 1900's. In the 1940's they started to make clay drain tile, (Corunna Brick and Vitrified Tile Co.) but because of the introduction of pvc drain tubing, they discontinued clay tile manufacturing in the 1970's.
Michigan Brick, as it is called today, employs 125 employees and makes about 70 million bricks per year. In 2000, a new permit was issued to begin clay excavation on the former Dvorak farm along the south side of East M-21 just west of Wren Rd. This is located about 1 mile east of Corunna and about 1/4 mile east of the old Corunna Coal Mine and will supply material for an estimated 20 years.
Michigan Brick made changes to a county drain the previous year to prepare for the excavation expansion. Company crews had scraped top soil off the area, making large berms around the site extending to M-21.
This property is best known for it's large "spoils" pile located along M-21.
Concerns were raised since Michigan's first coal mine, where soft, high-sulphur coal was mined, had a major main shaft to the surface on property where the Dog and Gun Club is now. The mining resulted in the surrounding area being "honeycombed" with horizontal shafts. Those shafts connect large "mine out" areas, like gigantic caverns, throughtout that part of Caledonia Township.
U.S. Brick has a permit to discharge up to 900,000 gallons of water per day into the Coal Mine Creek.
The brick yard as it looked in 2002.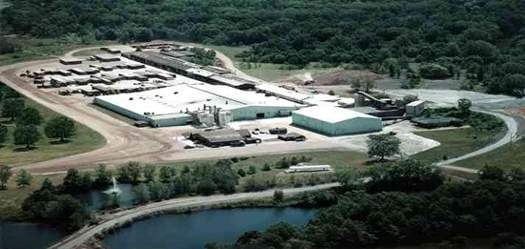 ---
---
---
---