Depression Scrip
Owosso, Michigan....Circa 1933
---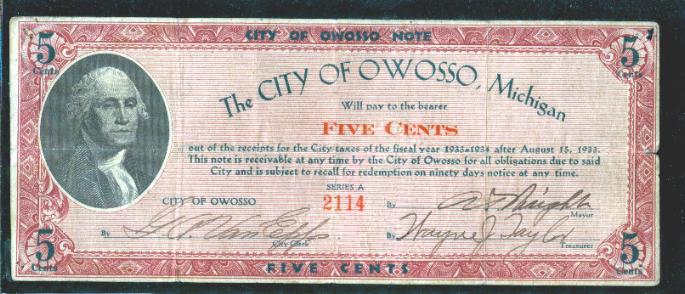 For a couple of years, the City of Owosso printed "Depression Scrip Notes". These bills measured approximately 2.75 x 6.25 in size, were very colorful and printed in 1933-34.
There were a couple of different designs, one even shows a picture of an indian and a canoe with a city in the background. The front side states in part Out of unpaid city taxes for the fiscal year 1933-1934, on September 28, 1934, pursuant to City Commissions Resolution of December 1, 1933, , the full faith and credit of the City are pledged for payment hereof. Dated December 15, 1933. Series A, number 6432 printed in red. Signatures of G.A. Van Epps, City Clerk, and Wayne J. Taylor, City Treasurer, and A.T. Wright, Mayor.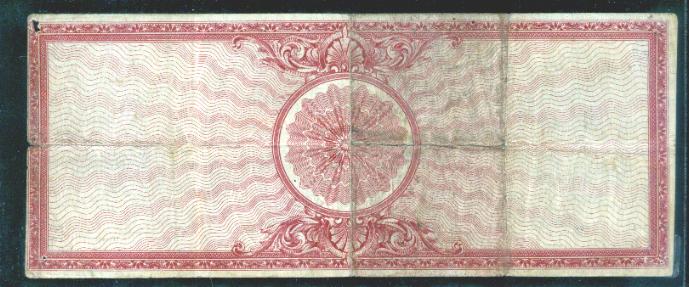 ---
Cliff Garnett remembers when his printing company in Owosso, got the job of printing all the scrip. The paper denominations were to be nickles, dimes, quarters, dollars,five dollars and ten dollars. Each printed in a different color.
The first printing bore a picture of George Washington. But that made it look too much like United States currency to suit Uncle Sam, and most of that batch was scrapped.
The next printing bore a likeness of Franklin Delano Roosevelt and another printing depicted Owosso City Hall.
Garnett also said that the Printing Company asked for a policeman for security, but the City said no. The printing job took 6 to 8 weeks. Then the scrip had to be signed bill by bill, a laborious process undertaken by the officials at City Hall.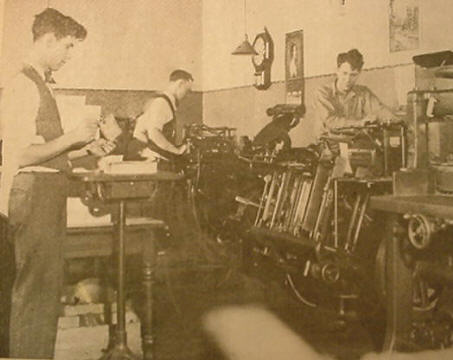 Above Clifford Garnett, right and James Willoughby, center, are shown at the Garnett Printing Company, Owosso, in 1933. Chris Garnett, left, looks over a sample of the finished product. This picture was taken by William May, then of the staff of the Owosso Argus-Press. He retired as Managing Editor of the Muskegon Chronicle in 1980.
Below is a 1934 $10 scrip note.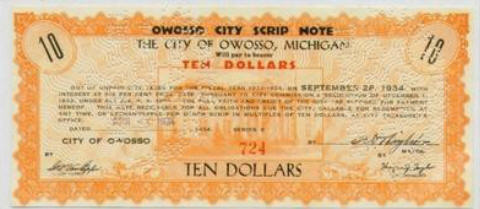 ---
More about Owosso Michigan Banks