Shiawassee County Michigan Dairies
None of the following companies are in business today.
---
Bancroft

Bancroft Dairy
Hemenways Dairy
The Old Exchange Dairy
VanWoert Dairy
---
Byron

Miller Dairy
---
Corunna

Cloverleaf Dairy
CoopersDairy..North State Road
Walters Dairy..Downtown
---
Durand

Durand Dairy
Durling Brothers
Durand Creamery Company
Model Dairy
Dicky Dairy
---
Henderson

Sunquist Dairy
---
Laingsburg

Dixs Dairy
---
Lennon

Lennon Creamery
---
New Lothrop

Roach and Sons
Conklins Dairy
---
Owosso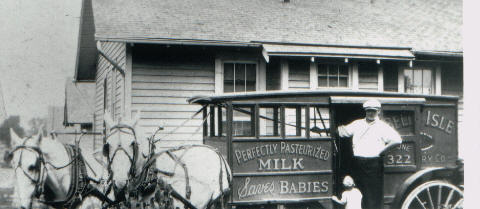 Belle Isle Dairy

Byerlys Dairy
Coopers Dairy
Constines Dairy
Began by purchasing an old dairy company for $150.00 in 1938 and selling 30 quarts per day at .07 cents/quart. Pasteurization equipment was purchased for $2,100 in about 1940. Closed in the late 1940's.
Eben F. Dudley
Creamery and Cold Storage, Butter and Eggs
Eben was also listed as President of Owosso Poultry Co. in 1898. Harry F. Dudley took over control of the creamery in about 1904. It was located west of the intersection of Washington and Water Streets.
This photo is looking north and shows their buildings.
Gurnsey Dairy
Nelsons Dairy
Sauders Dairy
United Dairies Company
West Side Dairy
Evergreen Dairy
Owosso Dairy
F.C. Smith
Grand View
B.C. Kebler
J.G. Nelson and Sons
Stechschulte
Cavanaugh
Hickory Grove Farm
E.A. Lottridge Milk company
Waughs Dairy
L & B Milk
Anthonys Dairies
Bordon's
---
Perry

Briggs Dairy
Maple Lane
O.H. Mills
---
Vernon

Riverview Dairy
---
Near the Saginaw County line:
Chesaning
Chesaning Dairy
C.H. Judd
Kurrle Dairy
North Ridge Farms
Willes Guernsey Dairy
Wiltses Dairy
Chesaning Farm
Joe Garrage Dairy
Webbers Dairy
Near the Clinton County line:
Elsie
Vincents Dairy
R.D. Praey Dairy
Mapleside Dairy
Perth Dairy
OvidRoy Wisner Dairy
Ovid Dairy
Squires Farm Dairy
---
Collecting Dairy Bottles
Collecting bottles can be fun since there are so many different styles available through the years. The earliest companies began delivering in the teens. Bordon's in Owosso was still delivering milk by horse and wagon into the 1940's. Bordon's made home deliveries by truck, into the 1970's. None of these are companies are in business in Shiawassee County today.
Most of these Dairy Companys used glass milk bottles in various sizes from tiny creamers,half pints, pints, quarts and half gallons. All have the dairies name either embossed or molded into the glass or they are painted.
During World War II some dairies painted slogans on the back of their bottles like: Buy War Bonds.
---
Shiawassee County Michigan History
---