Owosso Speedway and
'Prisoner of War' Camp
History
OWOSSO, MICHIGAN
---
Owosso had a dirt oval track for car and motorcycle racing about 5 miles west of Owosso on M-21. But during the World War II the government leased the property for a German Prisoner of War camp.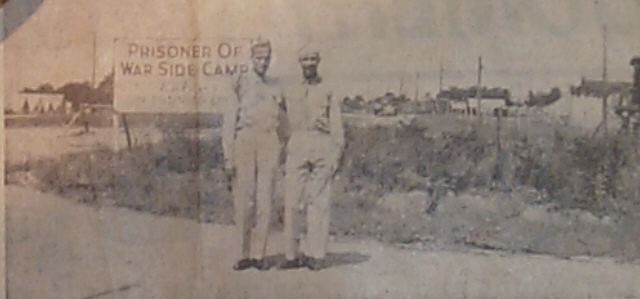 The U.S. Government, during WWII setup 25 Prisoner of War Camp's in Michigan including 'Camp Owosso' located at the corner of M-21 and Carland Rd. The area was used as a dirt race track, but since it was not used during the war, it served as Camp Owosso between 1944 - 1945.
In the picture, on the far left and right can be seen some of the tents-housing, while in the front are two military police. The tents had a cement floor and a kitchen was built, as well as showers and toilets.
On May 30, 1944, 200 veterans of Field Marshall Erwin Rommel's Afrika Korps arrived at Owosso. Most of them men in their twenties.
Physically, the camp consisted of a stockade fence surrounded by a high-wire fence topped with several strands of barbed wire. The public was not permitted access to the site and signs posted along M-21 warned motorists that it was unlawful to stop or park. At night floodlights illuminated the fence and adjacent area.
The Owosso garrison consisted of thirty military policemen (MPs) and a number of support personnel fron the 1611 Service Command Unit at Fort Custer. Army police directed that the ratio of guards to prisoners would be one to seven.
By July 1944, 375 prisoners were held at "Camp Owosso."
P.O.W. Camp Owosso
The prisoners had been captured on the battlefields of Europe and Africa and after being brought to Michigan, were allowed to work on area farms, the Roach Canning Factory at Owosso or the Aunt Janes Pickle Factory on Easton Rd. near New Lothrup.
Under the Emergency Farm Administration Labor Program, most prisoners chose to work and get paid, over staying confined in camp.
The prisoners preferred working at the farms, as they were given extra food and there had to be one guard for every 3 prisoners at the work site. They earned about 80 cents a day.
The first prisoners were typical Nazis, but the later ones of 1945 were older and had a different attitude. They preferred farm work if they had a chance. At the Canning Factory, corn, peas and tomatoes were sorted, cooked and canned. The prisoners were transferred by truck to and from the plant each day. As they rode through town, they would sing and holler and wave to anyone they saw.
They apparently enjoyed being prisoners, far from the slaughter of the battlefields overseas.
In the winter months, they were taken to Camp Custer, which had permanent housing.
One incident that drew national attention to Shiawassee County was the esape of two prisoners. They managed to slip out of the canning factory plant and made their way to Monroe St. where two women were waiting for them in a car and whisked away.
When they were found to be missing, the County Sheriff, Ray Gellatly, notified the State Police and a massive manhunt was underway. The next morning , all four were captured near Colby Lake in a 'thicket', looking very bedraggled.
The Germans were returned to the camp and the two women were prosecuted in federal court and served time in federal prison.
After the war ended in 1945, 15 POW camps in Michigan were closed which housed a total of about 2,000 prisoners.
After closing "Camp Owosso", some of the smaller buildings were sold to neighbors. The Owosso Speedway opened again to race fans and all that remains of Camp Owosso is a small sign and few old photographs.
---
Some of the above history was taken from an article by Duane Miller.
---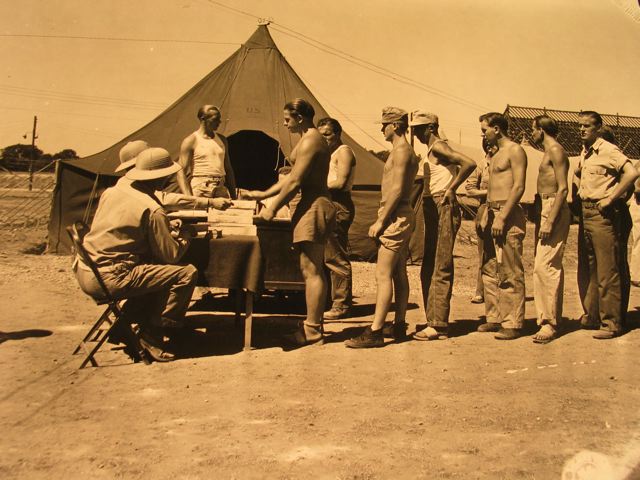 National Archives picture "German Prisoners of War at a camp near Owasso, Michigan, being paid with canteen checks by Camp Commander Captain Ohrt." Dated 8/8/44 - photo by Sgt. S.L. Hertel.

Below, "German Prisoners of War, at a sidecamp in Michigan, are pictured here playing soccer; their chief form of outdoor recreation." Dated 8/8/44 - photo by Sgt. A.L. Hertel.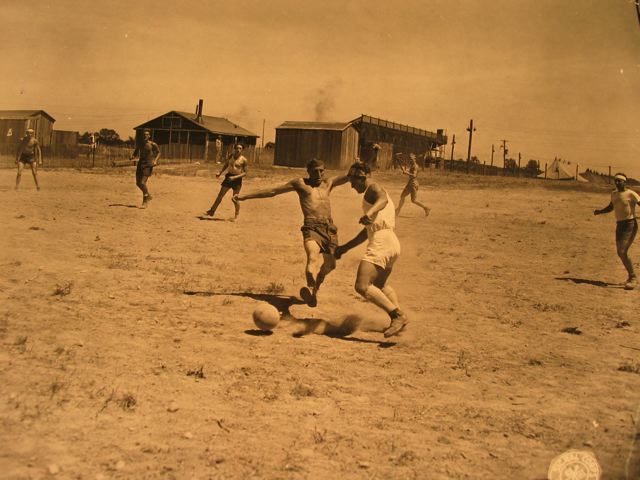 ---
Woman's hidden history recalled by family
By MICHAEL PETERSON, Argus-Press Staff Writer
Tuesday, January 19, 2010
German Prisoners of War at a camp near Owosso are being paid with canteen checks by Camp Commander Captain Ohrt. At back right are the bleachers for the Owosso Speedway race track. Photo from the National Archives
In July 1944, two local girls named Kitty Case and Shirley Druce assisted two German soldiers escape from the Owosso prisoner of war camp.
The four spent the night in the woods near Colby Lake in Woodhull Township before they were caught by the Sheriff's Department and Michigan State Police the following morning. In January 1945, the two girls were found guilty of conspiracy - with Case receiving one year and three months in prison and Druce getting one year and a day.
For most residents - if they are familiar with the story at all - that's where the tale ends. But according to Melinda Nethaway, that's only half the story.
Nethaway, Druce's daughter-in-law, said Druce felt great shame about the incident, which led her to move to California after she finished serving her prison time. Even though Druce was thousands of miles away from Owosso, Nethaway said the incident was something that haunted Druce her entire life.
"I think her life would have been somewhat different if she didn't have this big cloud over her head," said Nethaway, of Sacramento, Calif. "I think it was very embarrassing for her."
Nethaway said after Druce moved to Downey, Calif., with her new married husband, she raised two girls and two boys. Her husband, Melvin Nethaway, worked as a tool-and-die maker and Druce was a stay-at-home mother.
Nethaway married Druce's son Cary, but said it was years before she found out the WW II escape, which was a closely-guarded family secret. None of the four children even knew about the incident while Druce was alive.
"Nobody ever mentioned it and nobody knew about it," Nethaway said. "The oldest daughter knew (Druce) could never vote or get a passport to get out of the country, but she never knew why."
It wasn't until Druce, at the age of 47, died of cirrhosis of the liver in 1975 that the truth came out.
Nethaway said it was about a week after the funeral when Druce's husband decided to tell the story.
"You could tell he wanted to get it off his chest," Nethaway said. "(My husband and I) were in a car and he said, 'I want to tell you something.'"
But actually, the children weren't very surprised after hearing the tale, according to Nethaway.
"To be honest, I don't think anyone was shocked," she said. "I think everyone knew that there was always something in the closet. ... It was more like, 'Oh, that's what it was.'"
Nethaway said, being naturally curious, she wanted more of the details of the incident because even Druce's husband didn't have the full story. She eventually found out most of the details concerning the incident after she contacted the Owosso branch of the Shiawassee District Library.
"It was a much bigger story than we originally thought," Nethaway said. "In my head, I started thinking about what this must have felt like for her. Owosso is a small town and it was plastered on the front page. I can't imagine being a teenager and going to a federal penitentiary."
Nethaway said once she found the information and gave it to her husband and his siblings, many of them felt very sad for their mother - but it also gave them a sense of closure.
"I think it filled in a lot of holes for them," Nethaway said. "I wish (Druce) could have shared this and had known that her kids would have accepted it and still loved her."
Unfortunately, Nethaway said, all she can do is speculate on how Druce truly felt.
"Even if I had found out about this when she was living, I'm almost positive she wouldn't have talked to me about it," Nethaway said. "This was something she put some place deep inside and moved on. But I wonder if it was something that always tormented her a bit. I think it was something that was always hovering over her because she never wanted her children to know about it."
Nethaway said Druce eventually became an alcoholic, attributing it to the POW camp incident, her adoption and the fact her genetic father also was an alcoholic.
"She was drinking in secret - like in the morning in her coffee cup," Nethaway said. "She would get depressed at times, and she was kind of secretive."
Nethaway speculates that neither Druce nor Case initially knew the impact of their actions because socialization with the prisoners was so common during that time.
"In the newspaper articles, it said the girls were laughing when they got arrested," she said.
Nethaway said she felt what happened to Case and Druce was unfair, because, according to a 1945 Time magazine article, these incidents were far from rare. The article said, "Nazi prisoners and women canners had met in frequent, small-hour drinking parties. Army guards frequently attended the parties, arranged dates and carried notes from the women to their prisoners. Necking parties in the prisoners' stockade had become standard social performance."
"I don't know why these two girls had to go prison for it," Nethaway said. "Maybe they were just trying to show everybody that they were serious about this."
The magazine also made the claim that the girls helped the two prisoners escape because they were enamored with the men.
"Strong young men were scarce anywhere in Owosso, Mich., and painfully so at the W.R. Roach Canning Co. plant. Buxom Kitty Marie Case, 20, and thin, swarthy, 18-year-old Shirley Jean Druce, who worked there, fretted about it almost as much as did the management. Then a labor gang of German prisoners from the nearby Owosso prison camp arrived under MP guard. The manpower shortage was met - but there were ugly complications," the article read, also detailing the girls' trial. "Sighed Miss Druce: 'The Germans are a lot better gentlemen than some of the boys around Owosso.'"
But Nethaway said she feels it is important for people to know that there was much more to Druce than just what was printed in the paper decades ago.
"She was extremely intelligent. She read a book a day almost," Nethaway said, adding that Druce was also a loving mother, friendly and very artistic - playing four different musical instruments and was an avid drawer. "When people 'Google' Shirley Druce's name they are seeing the absolute worst moment in her life, and there is so much more to her. Even though that happened, she went on to have a family and children - and they were effected even to this day."
---
Owosso Speedway housed German POW camp in WW II
Tuesday, January 19, 2010
OWOSSO - In 1944 and 1945 German Prisoners of War were housed in a camp 5 1/2 miles west of Owosso near the northwest intersection of M-21 and Carland Road, presently the site of the Owosso Speedway. "Camp Owosso" consisted of a fenced compound with tents pitched in rows. Normally, each tent held six prisoners.
Most of the prisoners at the Owosso camp in 1944 had been captured in North Africa. By 1945, men from the European theater, particularly Italy, were also housed there. It is estimated that between 200 to 1,000 prisoners were held at the camp. An exact number is not known as all POW records were returned to Germany, and the camp administrative records were disposed of in the 1950s.
Under provisions of the Emergency Farm Labor Act, POW labor could be used on nearby farms and in cannery plants. The principal contractor with the government for prison labor was the W. R. Roach Canning Company, but when not needed there, groups could be hired by local farmers for the prevailing farm wage. Of that money, 80 cents per day was given to the prisoners in canteen checks while the rest (about 52 cents per hour) went to the federal government to maintain the camp. A typical work day was eight to 10 hours long, and generally they worked six days per week.
While officially the local people were not supposed to fraternize with the prisoners, many of the farmers would feed them lunch, and some remained friends even after the war ended. The government supplied them with a couple of slices of bread and either a piece of meat or cheese for lunch, but this was inadequate for many of the men doing manual labor. Often, the farmer and his wife would include the POWs with the family for their noon meal.
There were few reported problems with the POW labor once the language barrier was surmounted. Some local people felt the men preferred being prisoners to fighting in the war. Many of them were not Nazis, but they had been forced to fight in Hitler's army. All they wanted was to go back home.
While in most reports the men were described as "well-behaved" at least two escape attempts were reported in the local newspaper. The first in July 1944 involved two girls, Kitty Case and Shirley Druce, 20 and 18 respectively, helped two men escape from the W. R. Roach Canning Company where they worked.
Both girls admitted making arrangements to meet the two men, Gottfried Hobel and Eric Classen (both 20), and Case testified that she was in love with one of the men. A month after the conviction, they were sentenced. Case received one year and three months while Druce was sentenced to one year and a day.
The second escape attempt, a month later, also involved Hobel and Classen. Along with Heinz Sauer and Werner Adam they walked away from two different farms, one in Gratiot County near Bannister and the other south of St. Johns. All were captured and returned to the camp within a couple of days.
There was also at least one instance of the POWs helping the community in an unexpected way. On July 6, 1945, they carried a woman out of a burning building.
Mrs. Eva (Frank) Worthington had been released from Memorial Hospital after giving birth to her tenth child, a daughter. Her husband was the superintendent of the Roach Canning Factory and was working at the time of the fire. Mrs. Worthington was awakened when several of the POWs entered the house, wrapped her in her mattress and carried her to safety. The POWs also salvaged some of the family's belongings and helped fight the fire.
---
Owosso Speedway
Known as the "The Fastest Quarter Mile Dirt Track"
Through the years since 1945, the Owosso Speedway has undergone several different owners and improvements to the property including a hard surface upgrade to the track.
Here are some photos from May 1948.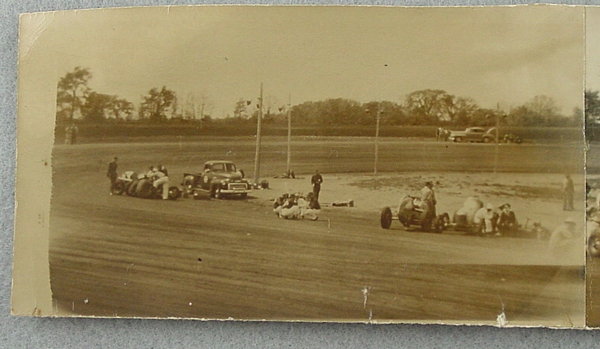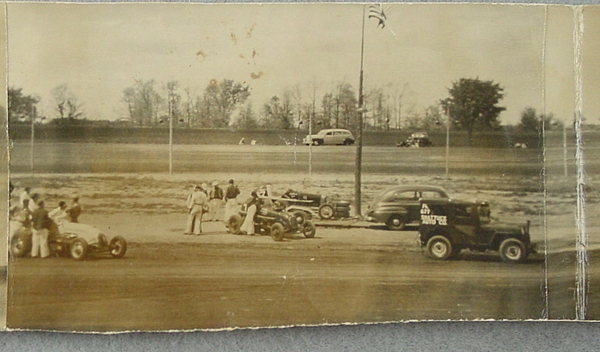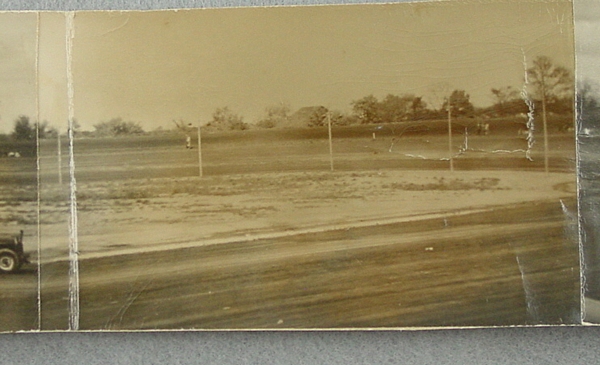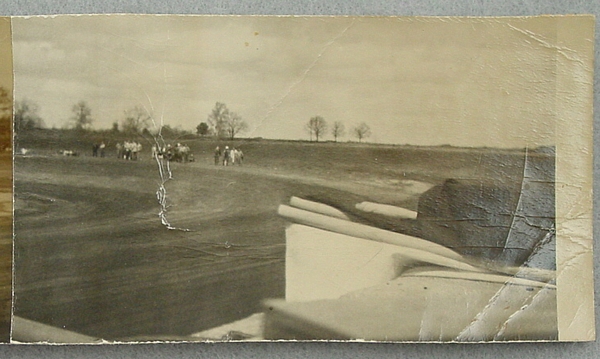 Shorty Miller was listed as one of the drivers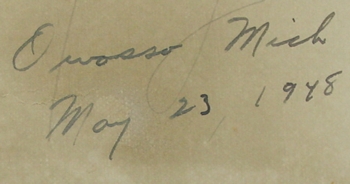 In 2012, the following photos and info was found on Craiglist about the Owosso Speedway.

Owosso Speedway For Sale By Owner - $399,000.00

Great investment! Racetrack for sale by owner, 3/8 mile, high bank oval, ashphalt racetrack, 40 acres, open for business for over 70 years, race ready, 2012 season in process. See us at www.owossospeedway.com. Call Dave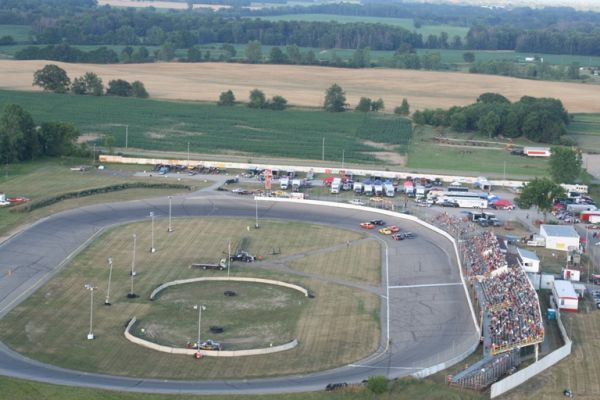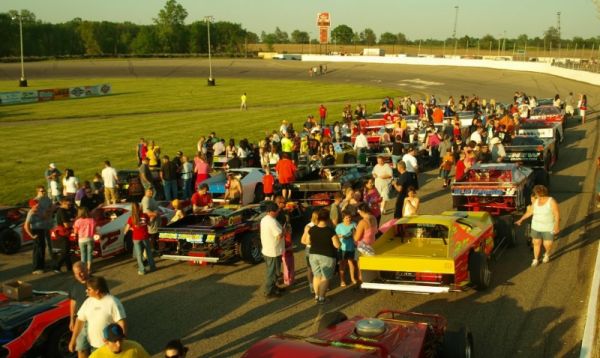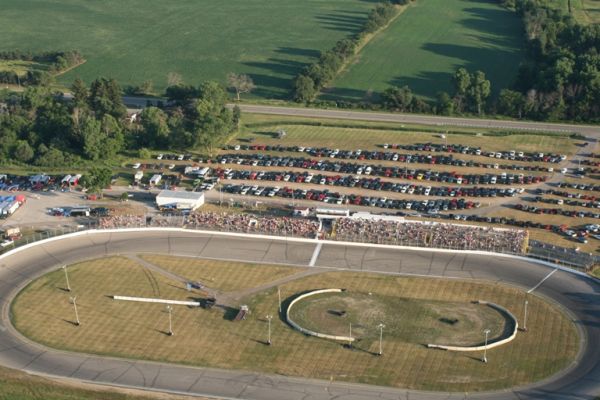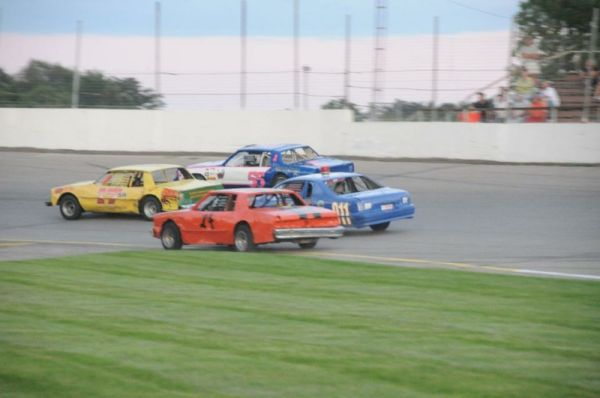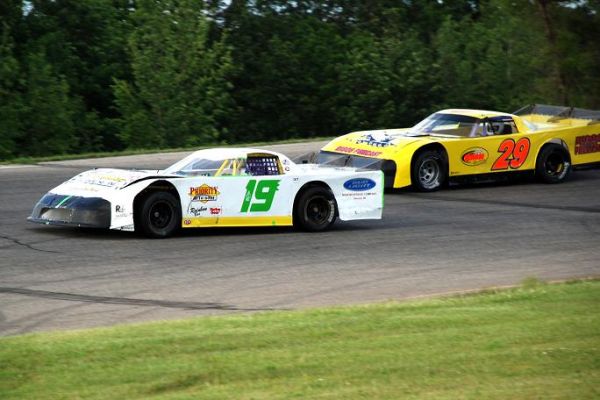 M-21 can be seen in the top left of this photo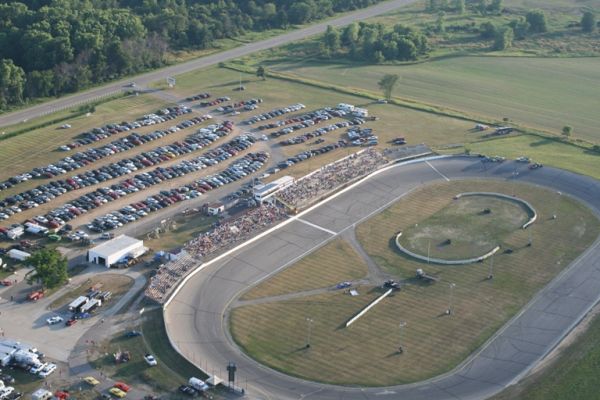 ---
Lets watch a race at Owosso
---
Shiawassee County History