Soda Pop Bottlers of Shiawassee County Michigan
---
Owosso
---
Radford & Son......
both quart and pint sizes have been found.
---
A.G. Osmer....Owosso Bottling Works
Alfred G. and Albert E. Osmer owned a soft drink bottling plant located at 612 River St. as early as 1906. Later the address was listed as 653 N. Water St. Some of these pop bottles are embossed A.G. Osmer Owosso Michigan.
Alfred also owned Osmer's Market, which opened as Loomis and Osmer in 1907. His son, Fred, continued the market, located at 108 N. Washington St. until 1975.
---
Paul B. Hood purchased the Owosso Bottling Works in the 1920's and remembered when they would bottle pop in the morning and deliver it afternoons in a wagon.
He later moved his plant to 911 W. Main St. in Westown Owosso. There he bottled Vess Cola and several of his own flavors under the brand name Hood's.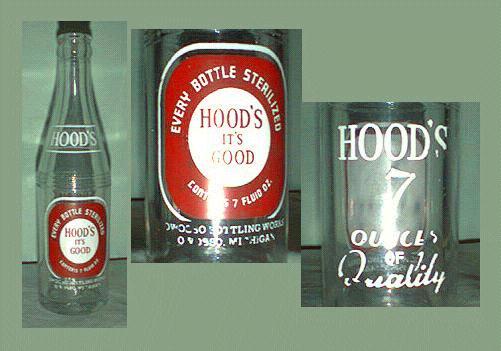 7 oz. bottle

The company name was eventually changed to Hood's Bottling Works and the retail stores were called Hood's Soda Pop Shoppe. In the late 1960's he had retail stores in Westown, East Side at 1243 E.Main St. and also Corunna Rd. in Flint Michigan.

His sons, Paul and David were involved in the business during their high school and college years. The Hood's Bottling Works closed in the early 1980's.

Paul became an attorney and converted the East Side store into his law offices. And David moved his coin shop from Owosso to Flint in the 1970's.
---
More Shiawassee County Michigan History