Zimmerman Manufacturing Company
Birmingham, Owosso, and Tecumseh, Michigan
---
James N. Zimmerman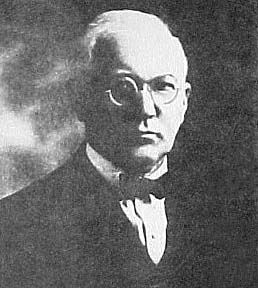 ---
ZIMMERMAN'S MILL.........Birmingham, Michigan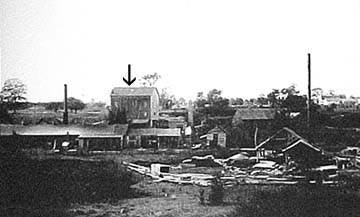 Shown above is an overall view of the mill operated by James N. Zimmerman. The buildings in the foreground were used for making baseball bats, ax handles, shovel handles and even pointers for Hill School teachers for wall charts and graphs and large maps.
The structure in the background, highlighted with an arrow, was the old grist mill located near the waterfall on what is now known as Quarton Lake.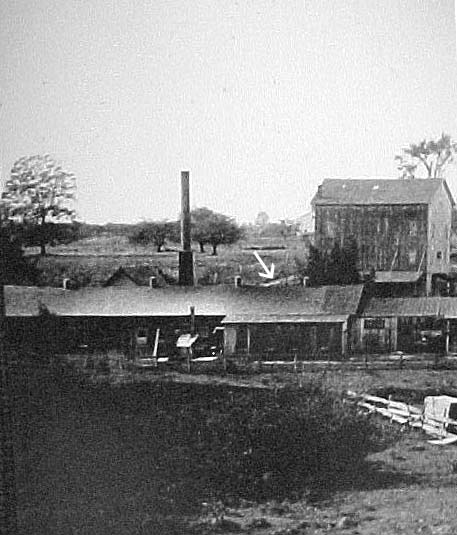 The bat factory was located at West Maple and Baldwin near the bridge over the River Rouge. A white arrow points to West Maple which, at the turn of the last century, was a narrow dirt road.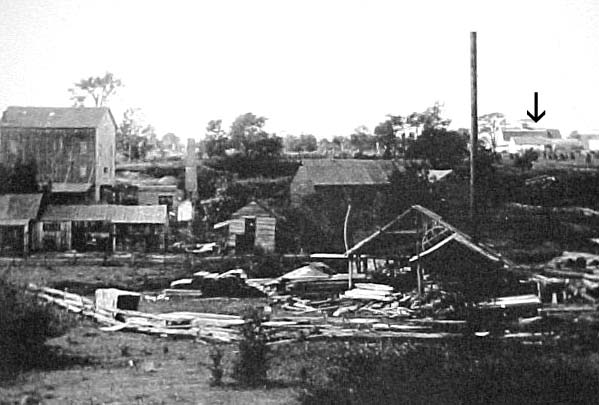 Mr. Zimmerman often advertised in The Birmingham Eccentric for farmers to bring him their hickory and other good hard woods to be used in handle and bat production. Shown above are piles of lumber curing at the rear of his property.
At the top right of the photo an arrow points to the white barns and outbuildings that were part of the Watkins Pony Farm. The ponies, imported from the Shetland Islands off Scotland, were bred and sold throughout the United States.
---
Here is an old article from the BIRMINGHAM (Michigan) ECCENTRIC written by Ruth Anne Silbar. An old map of Birmingham refers to the area where Zimmerman had his factory as the Tack Factory.
Tack Factory Didn't Make Tacks
James N. Zimmerman was the most successful proprietor of an industry in Birmingham, originally known as the 'Tack Factory.'
The business was begun in the spring of 1888 by a man named Edminston, who came with the sole purpose of revitilizing an industry in the village. Birmingham at that time had the reputation of being a "retired farmers" town.
With the greatest hope and expectations and with the best wishes of the people, he began operations in the long idle foundry on East Maple, making carpet tacks and wooden products.
Within a few months, he erected a plant down by the River Rouge on the north side of West Maple Avenue, where he was assured of a constant water supply.
At the time of the industry's most prosperous condition, there were 14 men on the payroll, reportedly turning out thousands of curtain poles, curtain rings, baseball bats and handles of all kinds.
Edminston, after working hard for two years, was forced to give up, a bankrupt man. It was then discovered that more than Edminston's time, labor and money was lost.
Some of the more properous citizens of the town had given Edminston a bonus of $1,000 to start his business here. That also was lost and Martha Baldwin who donated an acre of land "down at the flats" where the plant was situated, never realized a cent.
After Edminston's failure, the property was then dismantled and machinery taken away and plant lay empty for a long time.
James N. Zimmerman of Owosso, Michigan, in the spring of 1896, took over the property. His products were axe handles, neck yokes, dumbbells, Indian clubs, Billy clubs, whiffle trees and baseball bats. The plant furnished employment for 6 or 7 men.
It took Zimmerman over two years to form a personal aquaintanceship with baseball managers of different leagues all over the U.S.
After presenting them with bats of his very best brand "Zimmerman's League", and after many different players had experimented with them, this branch of his business was a moneymaker to its far-sighted owner. Orders at once flowed in and crack players sent models to the factory to be duplicated.
A notice appearing in the Birmingham Eccentric in October 1902 informed the public that "the plant always wanted hickory wood."
By February 1905, Zimmerman was ready to call it quits. He and his family moved back to Owosso, Michigan and the plant again was idle.
The land on which the old plant stood became a park and was willed to the city by Martha Baldwin.
---
Below is a rare Zimmerman LIFTER baseball bat manufactured by Zimmerman's Mill which was located on West Maple at Baldwin St., just east of the Quarton Lake waterfall in Birmingham, Michigan. The bat was made circa 1900. In addition to his own brand of bats, Mr. Zimmerman also manufactured famous "Louisville Sluggers", shovel and ax handles, and even pointers for use by Hill School teachers wishing to call attention to specific areas of maps and wall charts.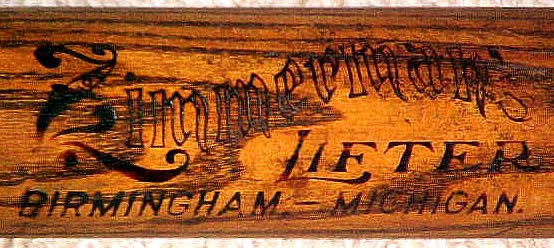 ---
Some of the following information is found in Helen Harrelson's book, Owosso, Michigan A to Z.

JAMES N. ZIMMERMAN was born August 26, 1860 in Grimsby, Ontario to Edwin and Mary (Orth) Zimmerman. He came to Owosso with his parents when he was eight years old.

At one time James had a movie/film exchange with a Mr. Rieder. He also ran a 5 & 10 cent store for a while.

Jim's first wife was Jessie J. Hall, daughter of Cyrus Hall. She was born in 1862. They were married in Owosso on April 12, 1882. He built the house at 401 North Cedar Street in Owosso. Jim and Jessie had: Ed, who married Ada E. Gerow, daughter of Daniel and Laura (Saddler) Gerow; Ernest, who graduated from Owosso High School in 1898; Myrtle and Mable, who never married. Myrtle and Mable both lived for many years at the Knapp and Smith Apartments, in Owosso.

Jim worked at the Mason Wood Handle factory, then had his own factories in several Michigan cities.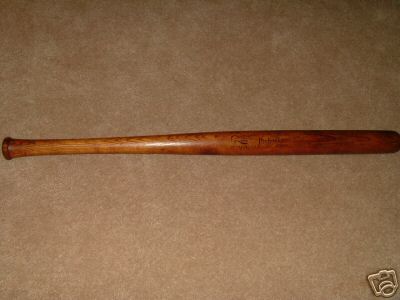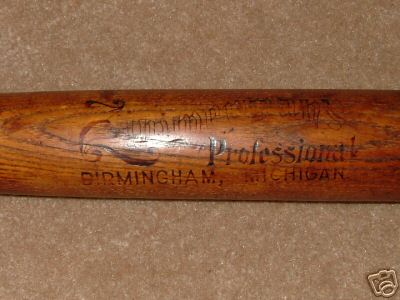 Above is the Birmingham made Zimmerman Professional Ball Bat
34" Long

In 1905 he brought the equipment from his Birmingham plant to Owosso (75 miles north) and built a plant on South Cedar Street. Most likely to obtain more lumber at a cheaper price.

Zimmerman Manufacturing produced wood handles for rakes, shovels and other various home and farm hand implements. However, Mr. Zimmerman must have had a great interest in sports, as he began to produce baseball bats, souvenir bats, tennis rackets and pole vaults. The Detroit Tigers was one of their largest customers.

Every kid in town had a Zimmerman bat or tennis racket, or both. Zimmerman was known for its quality.

One of the vaulting poles was used to win the pole vault at the Jamestown Exhibition on October 7, 1907.

Jessie died in 1916 and on October 2, 1920 Jim married Alice Katherine Kern, born March 6, 1891 to Henry and Flora (Nichols) Hall. She was a widow with a daughter, Florence.

Jim and Katherine had a daughter Mary Kay and two sons, James Jr. and Alan.

The bat business was purchased by the Louisville Slugger Company sometime in the mid 1920's. When the contract with Louisville Slugger ran out he began making bats for the local market and advertized 'made of the finest ash.'

In 1930, he moved his business to Corunna and there manufactured handles and bats. Any Zimmerman bat marked "Corunna", would have been manufactured in 1930 or after. This plant closed in about 1937.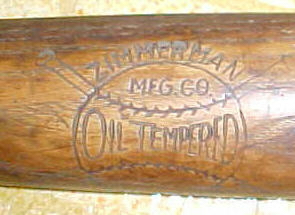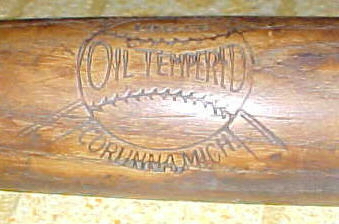 Jim died in 1937 and is buried in Oak Hill Cemetery, Owosso.
---
Below is a Zimmerman Bat made at the Owosso, MI plant.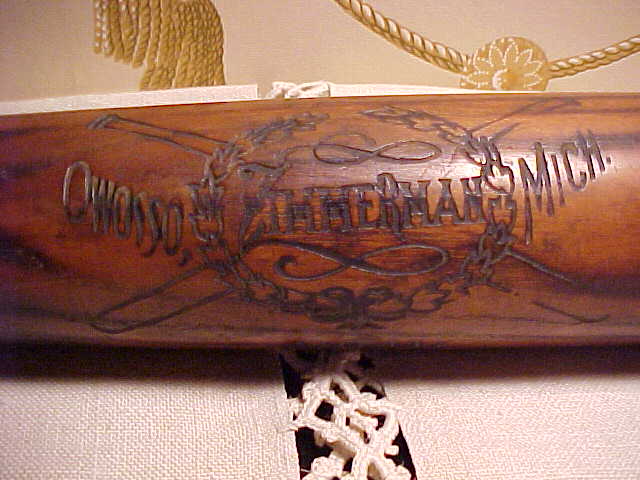 Beautiful example of an early Zimmerman Safe Hit model measuring 34 inches long.

The Zimmerman logo was sometimes a baseball with crossed bats and either says Corunna, Mich. or Owosso, Mich.

Below is a 20" mini bat.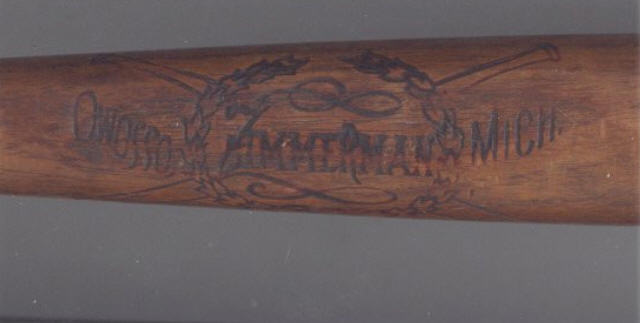 ---
James N. Zimmerman Obituary
From the Owosso Argus Press
Oct. 14, 1937

Jim Zimmerman, former Owosso manufacturer, who died in Pontiac on Wednesday morning, will be held from the Knapp & Smith Funeral Home at 2 p.m. Friday. Interment will be made in the Oak Hill Cemetery.

Mr. Zimmerman. who was 77 years of age, had been under treatment in Pontiac since one year ago last January. A letter received from the hospital one day before his death gave no indication that he was in serious condition. He was afflicted by a stroke Tuesday night, and died, several hours later.

He was born in Grisby, Ontario, on August 26, 1860, the son of Mr. and Mrs. William Edward Zimmerman. At the age of eight he moved to the Owosso vicinity with his parents and attended school near and in Owosso. For a time after leaving school, he was employed by the old M. Wood Company a handle factory here, and it was there that he learned the trade which he followed the rest of his life.

After a few years with the Wood company, he started in business for himself, and at one time or another he had factories in several Michigan cities. He operated a factory in Alabama for a short time, then returned to Michigan where he started a handle factory in Birmingham.

In 19O5, he brought the equipment of his Birmingham factory, to Owosso and founded the Zimmerman Manufacturing Company, which for a number of years manufactured bats and handles for axes, hammers and other tools.

Later the factory expanded its activities and added tennis racquets to the list of products. While making these products, the Zimmerman factory shipped goods from Owosso to many of the leading sporting goods firms of the country, and also to many prominent tool manufacturers.

In 1930, he moved his business to Corunna and there manufactured only handles, his bat business having been purchased by the Louisville Slugger Company. Shortly before ill health forced him to cease operations, however, his contract with the Louisville company expired, and he began making bats for the local market.

He was married to Miss Jesse Hall in Owossso in 1884 and was again married on October 2, 1920 to Mrs. Katherine Kern also of Owosso. He was at one time a member of the Episcopal church here as well as a member of the Masonic order.

Surviving by his first marriage is one daughter, Miss Myrtle Zimmerman, an employee of the Union Telephone Company here. Surviving by his second marriage are three children, James, Jr., Mary Katherine and Alan, all at home.

There are also one grandchild, Miss Laura Jane Zimmerman, and one step-daughter, Florence Kern.

Another daughter, Miss Mable Zimmerman, died on March 29, 1937. His son, Edward Zimmerman, died in about 1933.
---
Vintage Wood Baseball Bat by J. N. Zimmerman No.120
This wood Baseball Bat with the rounded, knob-like, handle was made at the Owosso, Michigan plant between 1905 and 1937.
The Bat measures approximately 32 ?" in length with a diameter (at the widest) of approximately 2 1/8". It has an ornate impressed mark that shows two crossed baseball bats with a laurel leaf circle over them. In the center of the circle it has "James N. Zimmerman" and on one side of the circle it has "OWOSSO" and on the other side "MICH." Below that it has "No. 120"
There is another impressed mark that's hard to make out "TIP-K-?"..... possibly a name? The bat weighs approximately three pounds. It sold on ebay for $595.00 in March of 2005.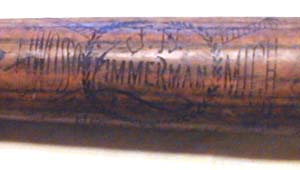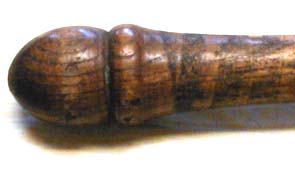 ---
M.A. Zimmerman Co.
Tecumseh, Michigan
I have found very little info on the Zimmerman Co. in Tecumseh, Michigan. It is not known whether M.A. Zimmerman was related to J.N. Zimmerman of Owosso and Birmingham, Michigan. They could be.

In 1896, a Tecumseh listing includes this: "Zimmerman, Martin A. manufacturer hickory handles, axe handles a specialty, factory corner of Wyandotte and Cummins Streets."

In Nov. of 2006, this M.A. Zimmerman - PROFESSIONAL - Tecumseh, Mich. bat sold on eBay for $800.00. It measures 34" long and has the acorn style end similar to the Owosso, Michigan bat.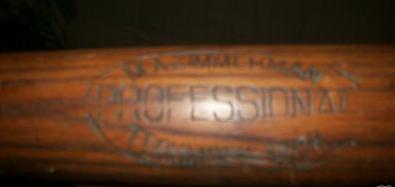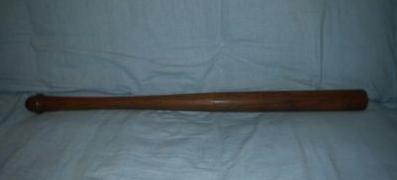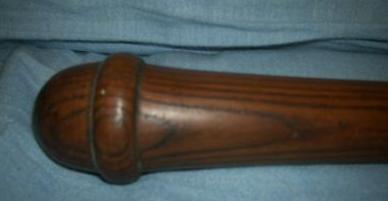 If you have more info, please email the webmaster.
steveschmidt at hotmail.com
---
Shiawassee County, Michigan History
---