History of Aviation at Owosso, Michigan
Owosso area aviation appears to have started in the early 1900s. The Owosso City Directory for 1924, lists a couple of pilots, one being a Mr.Bud Hammond - air mail pilot, owner of B.T.HAMMOND, FLYING SERVICE, OWOSSO, MICHIGAN.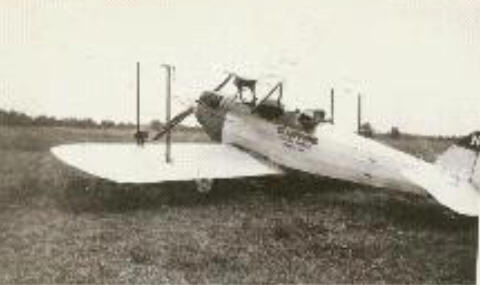 In those early days, you had to land in your own back yard or someone's pasture. And Bud was quite a pilot, he held the 160th 'high license' in the U.S. and it was even signed by Orville Wright. Bud was born in 1903 and by the time he was seventeen, he entered Varney's Flying School of Peoria, IL. Upon graduation, he attended the Chicago Aeronautical School and got his first job at the Indianapolis Airport. Bud soon earned enough money flying passengers, mail, air-ambulance and doing stunt work to purchase his fisrt airplane, a Curtiss Jenny.
Bud was responsible for the first mail contract from Mackinaw Island and Beaver Island. By the mid 1920s, he owned a more formal grass airstrip that was located north of Owosso, just south of Dean Dr. on the east side of M-52 and it was called Hammond Field. It consisted of an East-West grass runway and a quonset style hangar.
Below, circa 1927, Theodore (Ted) Prescott and young Bill Prescott in the front seat. Bud's bi-plane on floats flew up to Ted's Crystal Lake cabin.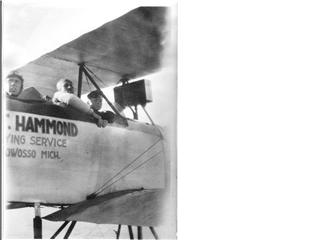 Bud's new 'Cabinaire' airplane was built in Saginaw, Michigan in about 1928. The bi-plane had a spacious heated 4-place cabin. Powered by a Warner radial air-cooled engine with a steel propeller of adjustable pitch. It was equipped for night navigation and had wheel brakes.

Also in 1928, it was reported that Dr. J.O. Parker gave $500 for improving Hammond Field. Eight pilots were using the field at this time including Dutch and Bud Hammond and J.W. Shattuck who had licenses. Others included James Oliver Curwood Jr., Lyle Graham, Charles Willson, Roscoe Bailey and Dick Perry.

Bud taught his cousin, Stanley Hammond, to fly and Stan later managed the St. Ignace Airport with National Airways, Inc. Stanley was known in the early days as "Dutch Hammond the kid flyer" and used to walk the wings in Bud's stunt flights.

Below, Bud Hammond (left), Ed Cooper (right) and Ed's daughter Dora Cooper (age 3 or 4, middle). Gentleman in the middle....unknown.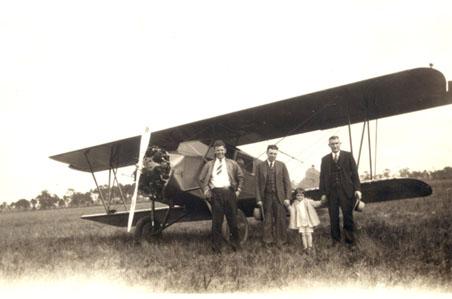 Bud and Ed purchased a Lincoln-Paige airplane manufactured in Lincoln, Nebraska. According to Dora, the picture was taken in Florida in 1929.
Bud is also credited with the first aerial photograph of a University of Michigan football game. By 1936, Bud had over 6,000 hours of flying time logged and some of it in government survey work with Abrams Aerial Survey Corp., piloting a glass-bottomed plane through which a $22,000 aerial camera took pictures.
He later tested B24s at Willow Run during WW11. Bud died in 1987 in Ann Arbor and is buried there.
---
More Early Memories of Jack Cooper
---
In 1919, the first woman to fly from Flint to Owosso in an airplane was Miss Louise Beckwith, who for several months has been associated with the news staff of the Flint Journal.

In 1929, Justin W. Shattuck received his transport license and purchased one of the nicest and finest airships. James Oliver Curwood Jr. has also purchased an airship. He and Mr. Shattuck flew their own planes home from Kansas.
---
OWOSSO AIRPORT
1929
---
On August 3, 1929, a dedication was held for a newly developed airport, owned by Robert Wilcox and Charles Wilson.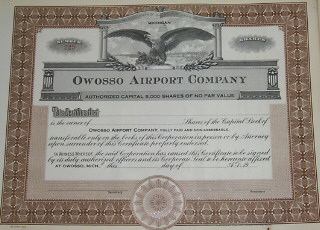 The Owosso Airport Co. was located at the present site of the Owosso Community Airport - 205 Airport Drive (1510 E. Main St. - old street address, but same location).
Wilson and Wilcox purchased about 78 acres from farmer Joe Mersic in the mid 1920's. Early news reports reported that 6 grass runways, each 2,500 feet, were proposed.
Both of these men were members of the Aviation Committee of the Owosso Chamber of Commerce and planned to form a stock company with the assistance of the chamber.
One of the main runways ran north-south from what is now the terminal/office building to M-21.
Owosso airport has an excellent safety record, however one of the first recorded crashes was in 1930, when a 19 year old James Oliver Curwood Jr., the son of a famed Owosso author, died after his bi-plane hit a tree on approach to landing. Two passengers were badly injured, but survived. Alcohol was a factor.
---
The 1930 City Directory lists Roy Hall-Pres., R.C.Wilcox-V.P., C.N. Wilson-Sec./Treas. of the Owosso Airport.
---
According to a book called, Souvenir of Owosso Michigan, 1986, by Helen Harrelson, sometime in the early 1940's, the airport was given or sold to Shiawassee County. However, no records were found of this transaction.
News accounts and records indicate that by 1947, local industrialists tried to pressure the County to make improvements to attract additional industry, without success. Also at this time, many young aviators were returning home after WWll and there was growing interest at the airport.
The County decided to deed the airport over to the City of Owosso, with the understanding that it always remain an airport. The City promptly formed the 'Owosso Airport Committee' to oversee the operation and improvements.
In 1948, the Michigan Aeronautics Commission approved a $25,000 grant, with matching local funds, to develop the present layout. It was officially named the Owosso City Airport in June, 1949.
Other airport operators include the following: The 1959 Owosso City Directory lists Knight Air Service, Wm. Knight-owner, at 1510 E. Main St.
---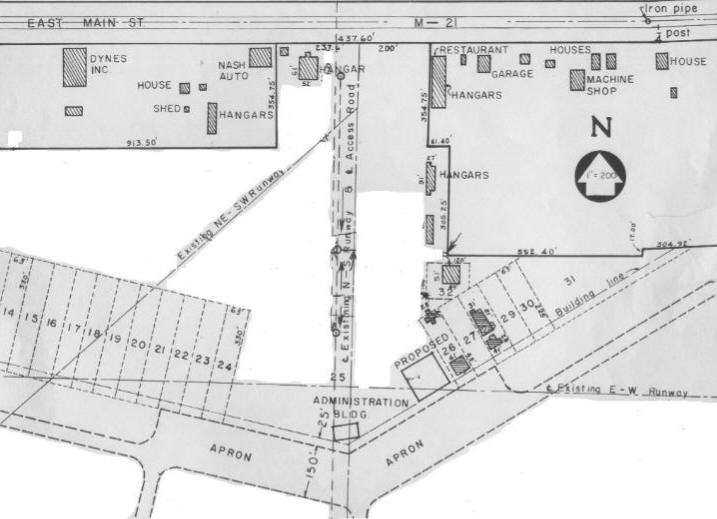 This drawing is labeled 'Owosso City Airport" --circa 1960. It shows the main north-south runway on the old entrance road from M-21 south to the location where the terminal building is today. The Dynes Inc. and Nash Auto property is now owned by Young Cadillac. Also notice the existing east-west runway, which runs on the north side of the exsisting administration/terminal building.
---
The City Directories of the 1960s list the Owosso Airport -John R. Rearick, Manager. And Geyer Air Service - Howard M. Geyer - Owner.
In 1966, the first jet to land at Owosso Airport was a two engine Lear jet from Omaha, Nebraska.
The 1976 Directory lists the Owosso Aviation Inc. with David Miller-Pres., Charles Barrow,V.P., Richard Parks-Sec./Treas. They advertized 'VA Approved Flight School'.
---
The City of Owosso in July, 1982 deeded the airport over to the Shiawassee Airport Board. This board was organized as a multi-government authority including the Cities of Owosso and Corunna, County of Shiawassee and the townships of Owosso and Caledonia.
In July of 1985, a ADAP grant was approved and construction began on major improvements including an 800 foot extension of runway 10/28, a parallel paved taxiway along the east half of 10/28, increased ramp paving and new airport lighting.
The airport has a rotating beacon and automatic pilot controlled runway lights for night operations. Runway 10/28 is hardsurfaced and 3800 ft. long. Owosso airport also has two grass runways which are normally closed during the winter months. The airport identifier is 5D3, the common traffic freq. is 123.00 and the elevation is 736 ft. above sea level.
In November 1999, a new main entrance driveway was built and parking area paved. Several new hangers have been erected and activity seems to be increasing at Owosso Airport. Many local industries daily use the facility for air transportation.
In recent times, Flight One Inc., owned by David Vaughn and Mike Pidek, provided flight school, charter service, aircraft rental and fuel. Mike and his wife Marsha managed the airport for several years.
Sascon Inc. bought out Flight One in the mid 1990s. Sascon is a building construction company owned by Brian Swatman and Gary Spencer of Owosso. At one time they owned five aircraft and built a new large office and remodeled the large hanger/workshop just east of the terminal building. They also added an underground fuel tank. Sascon Aviation closed in March of 2001.
---
By the late 1990's, Gary Randolph and family managed the day to day operations of the terminal building and grounds for the Airport Board for several years until Jan. 1, 2000.
Gary also owns Randolph Air Service, which provides aircraft maintenance, flight school and rental.
In 2000, Jerry Morford was selected to be the new airport manager and Dan Ferrier was selected to be the new airport maintenance person.
Expansion of the east-west taxiway were announced in January of 2002 and will include three taxi streets to hangers. The airport put up the 5% matching funds needed to win a $300,000 MDOT grant for the project.
In July of 2002 saw the erection of a couple of new hangers and plans for more are on the drawing board.
Jeff Thornton became the new airport manager on August 1, 2002. Expansion of the main runway to 4,300 feet was finished in 2005.
Greg Cochran II served as airport manager until March of 2007.
Tim Harwood was hired as airport manager in 2007.
---
Old Rotating Beacon Project
The old rotating beacon was removed from its high perch in April of 2013 and a new beacon was installed.
A plan to save the old Beacon for display is under developement.
If you would like to donate to this cool project, contact:
Tim Harwood
Owosso Airport Manager
205 AIRPORT DRIVE
OWOSSO, MI 48867
Phone 989-725-1969
---