Memories of Early Owosso Aviation
by Jack Cooper
---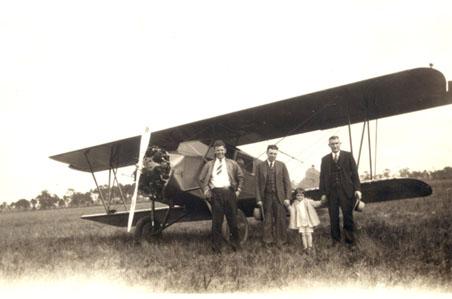 Bud Hammond (left), Ed Cooper (right) and Ed's daughter, Dora Cooper (age 3 or 4, middle). Gentleman in the middle...unknown.

According to Dora, the picture was taken in Florida in 1929. Ed Cooper and Bud purchased the plane together. It was the first Bi-wing, closed cabin plane in Owosso.

My first plane ride was with Bud Hammond when I was three years old and I can still remember the ride. We took off from the old Owosso Airport, north of town.

Other early pilots include Edwin Cooper who flew with Bud a number of times and he also had his own plane, which also was kept at Bud's airstrip.

They once flew up to Houghton Lake and landed on the beach in front of our cottage. Another trip they took was to St Petersburg, FL where my grandfather had a winter home next door to Charley Wilson, another Owosso pilot.

Wm. Knight, who later had a flying service at the new airport on M-21, was my best friend in High School. He married my sisters best friend and resides someplace out here in California.

Another great flyer from Owosso was Juddy Shaddick, who had a beautiful Stinson that you could always pick out in the air and you would say "there goes Juddy". He was the Plymouth dealer in Owosso.

I remember an accident that killed young R.J. Howe who crashed on our farm in 1945. He was soloing at the age of 15 and he flew over our barnyard waving his wings at my brother. He was my brother's best friend, and he and my father tried to pull him from the wreckage, but he had already expired. He flew one of the early Piper Cubs.

Those are just a few of my memories of early aviation in Owosso.

Jack Cooper......Morgan Hill, CA.
---
More Owosso Michigan Airport History