Shiawassee County Hotels
---
---
Owosso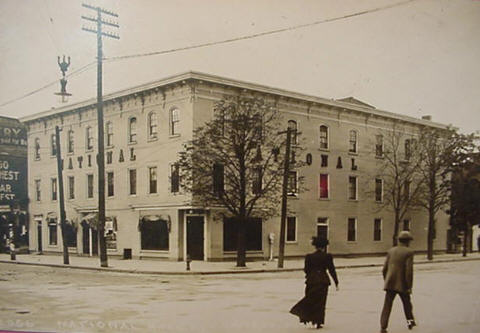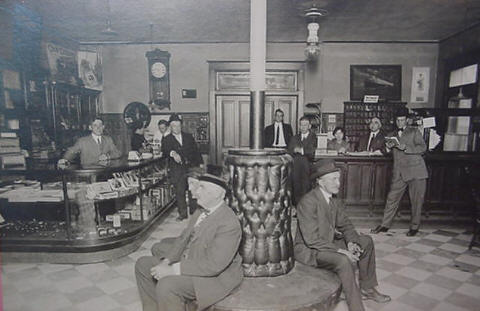 The National House Hotel in 1900 located on the southwest corner of Washington and Main Streets. Formerly known as the Ament Hotel which was built in 1844.
In April of 1907, M.B. Zuber completely remodeled the interior including enlargement of the lobby, dining room, addition of a modern steam heating plant, new furniture and fixtures and carpet. It contained 60 rooms.
In 1929 this building was torn down to make way for the new 'Fireproof' - Hotel Owosso below.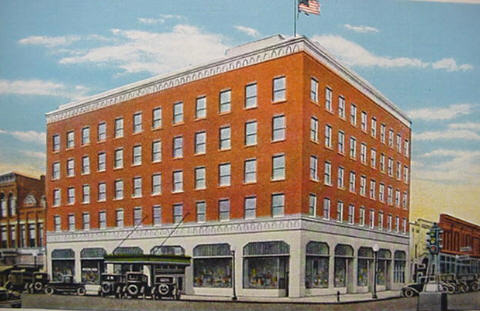 Jay Terbush Manager
Notice the Stop light on the right, which was in the center of the intersection of Main and Washington Streets.
---
Hotel Owosso in the 1940s.
Notice the State Savings Bank clock on the left.
It was a McClintock striking clock installed in about 1913.
---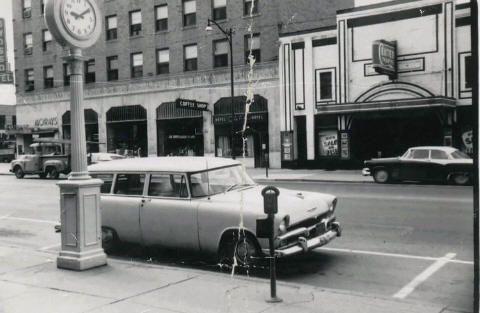 Above photo was taken in 1958. Old Center Theatre on right.
On the left is L.P. Ball street clock
which was made by the Brown Street Clock Company circa 1920.
The new hotel boasted 104 rooms, a beautiful lobby with grand staircase and fireplace and a mezzanine great room. On the main floor at street level there were several retail stores including a jewelry store called Moray's, a barber shop and shoe shine parlor, a gift shop, coffee shop and a Western Union office.
The five story hotel was solidly built and originally designed for 12 stories. It was finished just in time for the Great Depression.
The hotel has had a string of owners, but never was a success. In 1972, it was given to John Wesley College, who poured money into renovation and updates, but then lost it when the college got into financial trouble six years later.
It later became the Presidentual Arms Hotel and then the Owosso Inn. And in 1990, the main floor bar reopened, but because of neglect of the upper floors, it was forced to close in June of 1996.
In 2000, there is talk of demolition......A good article was written in the Owosso Argus Press on the history of the building, on Sunday October 29, 2000, including its operators through the years.
The old Owosso Hotel was torn down in April of 2005.
More About the Hotel Owosso
---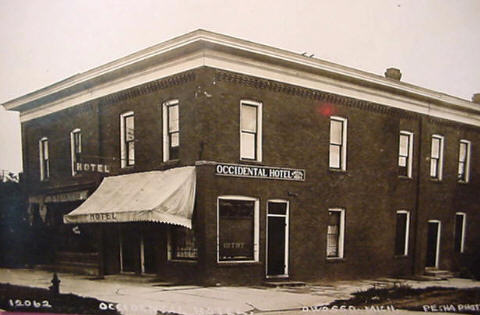 The Occidental Hotel in 1912 located on the northeast corner of Jerome and Dewey Streets. This was torn down in the early 1930's to make room for Wilman Field.
---
Owosso Michigan History
---