Issac Lamb
and the Perry Mitten & Glove Company
Perry, Michigan
---
In 1894, Issac Wixom Lamb, a Baptist minister, came to town not only to shepherd a new congregation but to start a mitten factory using a knitting machine he had invented.
Born in 1840, Lamb, a Livingston County native, was inventive and mechanically inclined. At age 19, he secured a patent for a machine to braid whip lashes; four years later, in 1863, he received the patent for his flat knitting machine.
He exhibited his invention at the 1867 Paris World's Fair, won first prize and founded knitting factories in France and Switerland.
When Lamb returned to the United States, he was ordained a Baptist minister but continued to work on improving his machines. Less than a month after his April 1894 arrival in Perry he opened the Perry Mitten & Glove Company.
Lamb's first building at Perry was a wooden structure in 1894. A new block building was built in 1905. At its height, the company employed 650 people, one third of the town's residents.
Lamb retired from the ministry in 1899 and devoted all his time to the knitting factory until his death in 1906.
---
Thanks to Larry Meeker of www.patented-antiques.com for supplying the following info on his Lamb Knitter.
Below.....Early Patented Lamb Knitter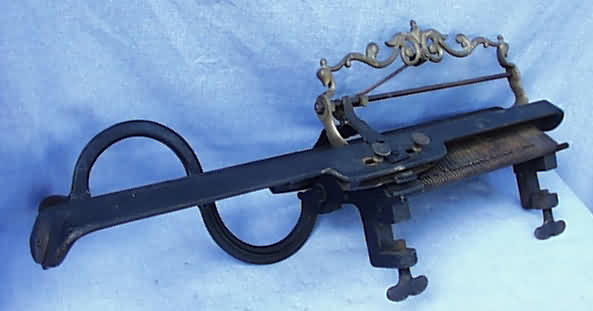 This machine could whip out a sweater or pair of mittens just as quick as you can turn the crank on this antique knitting machine. Marked on a brass medallion on the end is "The Lamb Knitting Machine Manf'g Co. Rochester, NY" as well as the very early patent dates of Oct. 10, 1865 and Sept. 15, 1868. It is also marked with the number 1815, which I assume is the serial number. This antique knitting device is very graphic and very mechanical, and extras include the original 30-page instruction booklet which contains a wealth of information on setting up the machine, and making such wardrobe necessities as leggins, a breakfast cape, wristlets, undershirts, nubias, tidies, stockings, sweaters, mittens and gloves. Also included is a 24-page 1884 catalog and price list of assorted models of Lamb Knitting Machines and accessories. The amazing thing is that this machine cost well over $100 in the late 1800's when Sears Roebuck was selling treadle sewing machines for just $15. This knitter sold in 2004 for about $495.00 on the internet.
---
Today, the 1905 block building is used as Perry Michigan City Hall, below.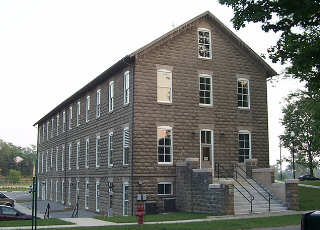 ---