Perry Michigan History
---
---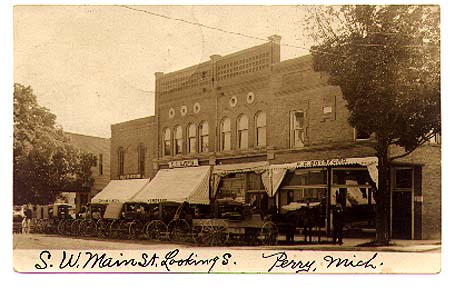 Downtown Perry in 1912.

Perry, located in Perry Twp., is a small residential community located in southern Shiawassee County at the junction of Interstate 69 and M-52. It is supported by small business, local manufacturing and its location as a commuter town to Lansing, about ten miles west.

In the beginning, Perry Center, developed on land owned by Horace Green and Dr. Joseph P. Roberts. William Laing, who founded the village, opening it's first store here in 1850 and becoming its first postmaster on Jan. 17, 1850. When the Grand Trunk Railroad came through in 1876, it was about a half mile south of the town, so the village was moved to it's present location, closer to the railroad tracks. The Post Office was always named simply Perry, even before the move. The village was incorporated in 1893 and named after the American navel hero, Oliver Hazard Perry.

Perry's Baseball Team of the 1890's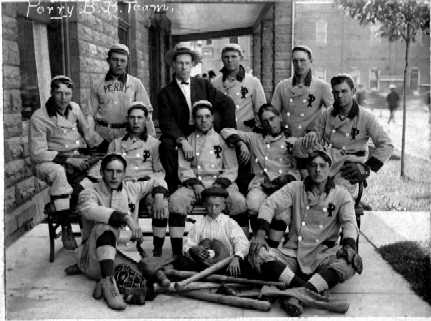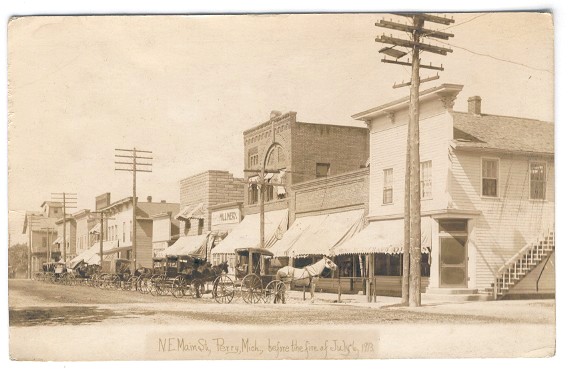 Northeast Main Street Before the Fire
A disasterous fire, on July 6, 1913, consumed nearly the whole downtown area, thought to be started by sparks from a passing train. It has been completely rebuilt.
In the 1990's, Exit 105 of I-69 was opened and commercial and residentual building continues at a fast pace.
The population was 2,163 in 1990; housing units was 759 in 1990; location is 4249'N 8414'W; land area is 2.72 square miles (1,743 acres); water area is 0.04 square miles (27 acres), elevation is 889 feet. Zip Code is 48872.
---
Michigan Historic Site Marker
Located 1/2 mile south of downtown, on M-52.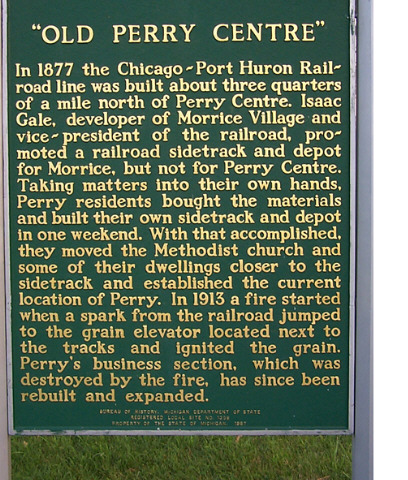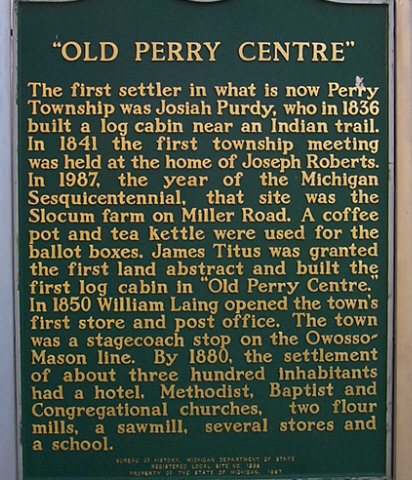 ---
---
Perry Methodist Church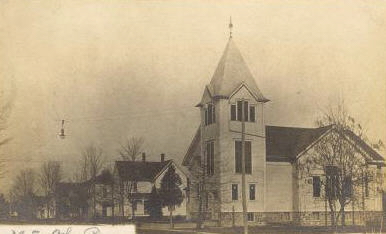 ---
Perry Mitten Factory
Today used as the City of Perry municipal offices.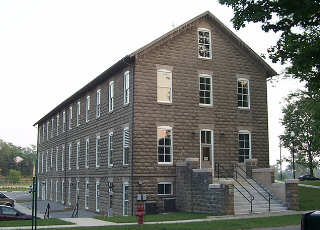 ---
Hick's Hotel
Before the fire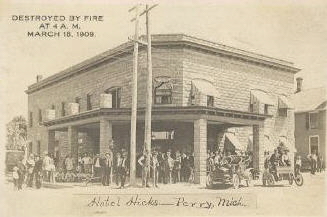 During the fire of March 18, 1909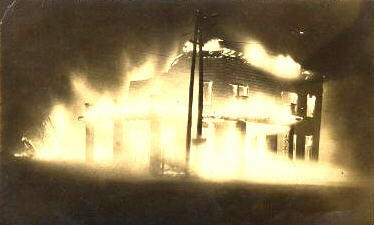 After the fire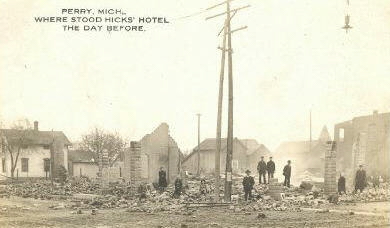 ---
City and Village History of the County
---
---