Hugh McCurdy
---
---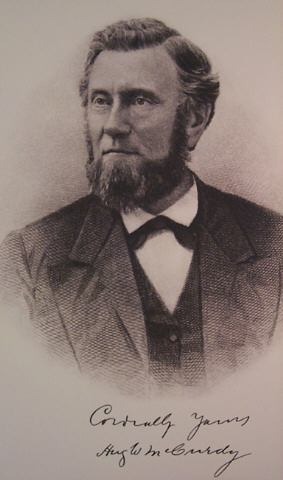 Hugh McCurdy
Born: December 22, 1829
Died: July 16, 1908
---
Grand Master of Masons of Michigan - 1873
Grand High Priest of Royal Arch Masons of Michigan 1871
Grand Master of Royal and Select Masters of Michigan 1879
Grand Commander of Knights Templar of Michigan 1877
Grand Master of the Grand Encampment Knights Templar U.S.A. 1892
---
---
Michigans Munificent Grand Master
By: Sir Knight Tom R. Amidon, Commander
Jackson Commandery No. 9
Jackson, Michigan
1990
---
..And he who would perpetuate his name to posterity, must enoble it with acts of charity and deeds of pure beneficence.

Those words have challenged Knights Templar for over 150 years. But never have they been more descriptvie of one individual. Never has that chellenge ever more resulted in the perpetuation of the principles of the Masonic orders than through one Sir Knight Hugh McCurdy.

Sir Knight McCurdy lived a long time ago, in a little town, Corunna, Michigan, but his acts and deeds have had an influence on this fraternity in Michigan which has lived on to this day. Although he came from a simple beginning, he rose to wear the purple of the fraternity in every branch of the craft. There are few who have ever left behind such a legacy. Truly, he was Michigans Munificent Grand Master.

Hugh McCurdy was born in 1829 in Hamilton, Lanarkshire, Scotland. He migrated with his parents to Birmingham, Michigan in 1837 when Michigan, although admitted to the Union the previous year, was on the edge of the frontier. He was industrious as a young man and quickly learned the trade of a cooper. Not content with this, through the urging of a physician friend of the family, he began to study law. He was asmitted to the Michigan Bar in 1854 at the age of 25 after studying at the J. R. Corson Selcet School in Birmingham, the Romeo Academy and with the law firm of Baldwin and Draper in Pontiac. ".....and his whole life since that time has been marked by successive victories over fortune", quoted the publication Freemasonry in Michigan in 1898.

He supplemented his income while studying by working as the local school teacher in birmingham in 1847, in nearby Royal Oak in 1848 and as a railway agent for the Detroit and Pontiac Railroad. When that line, later known as the Detroit, Grand Haven and Milwaukee was extended northward, McCurdy went with it. He settled in the little Town of Corunna, the county seat of Shiawassee County. He set up his law office and fervently began to pratice.

The Citizen / Lawyer

This energetic and personable young man became an instant success in Corunna upon his arrival there in 1855. He received an appointment to the office of County Prosecutor when a vacancy suddenly occurred in 1856. Four years later he was elected Probate Judge of Shiawassee County. He served on the county Board of Supervisors through the years 1855-73. During this period he also was elected to the State Senate in 1864. He returned to the County Prosecutor's position again in 1874. He was a frequent member of the Board of Trustees of the Town of Corunna for many years. He was a lifelong Democrat and ran for office as such. But often supported by Replublicans of the community.

McCurdy was a popular fiqure and even while in politics, maintained his interest in his thriving law practice.

He established the 1st National Back of Corunna in 1865 and remained an active partner until he sold his stock in 1873. His obituary as quoted in the Owosso Evening Argus, "...no meritorious person ever applied to him for personal relief, and was turned away without assitance, and that no man ever had a heart that beat in warmer sympathy with his fellows." Praise continued with a quote from one of his political adversaries of that day, "...he was lovely and pleasant in his life, swifter than an eagle, of simple tastes and frugal habits"..."today in every part of the continent the name of Hugh McCurdy is engraven upon the most substantial stone in the foundation of the superstructure of Masonry."

And Freemasonry was that part of his life which brought McCurdy his greatest rewards and satisfaction. This is obvious when we look upon his deeds and accomplishments within the fraternity. His fervency and zeal for his profession, his business and his community was only prologue for what he was to give to the fraternity.
The Symbolic Mason
Hugh McCurdy had been made a Mason in 1850 in Birmingham Lodge No. 44, Birmingham, Michigan.
---
---
---
Michigan Historic Site Marker
---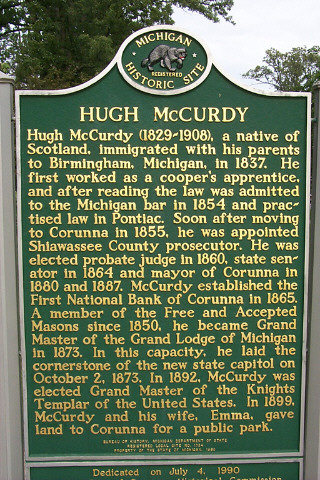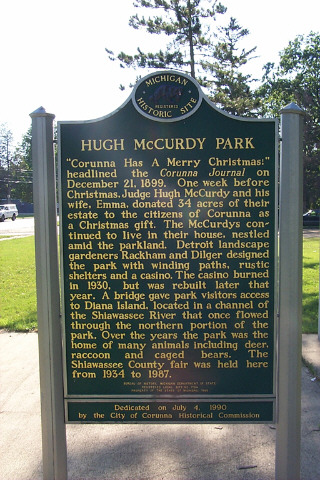 ---
---
---
This is a picture and biographical sketch was taken from a Masonic history of 1892. The engraving which is actually an intaglio process of printing, where the design is cut below the surface of the plate made of steel, copper or wood, and the incised lines are filled with ink that is then transferred to paper. Our U. S. currency is a very good example of the engraving process.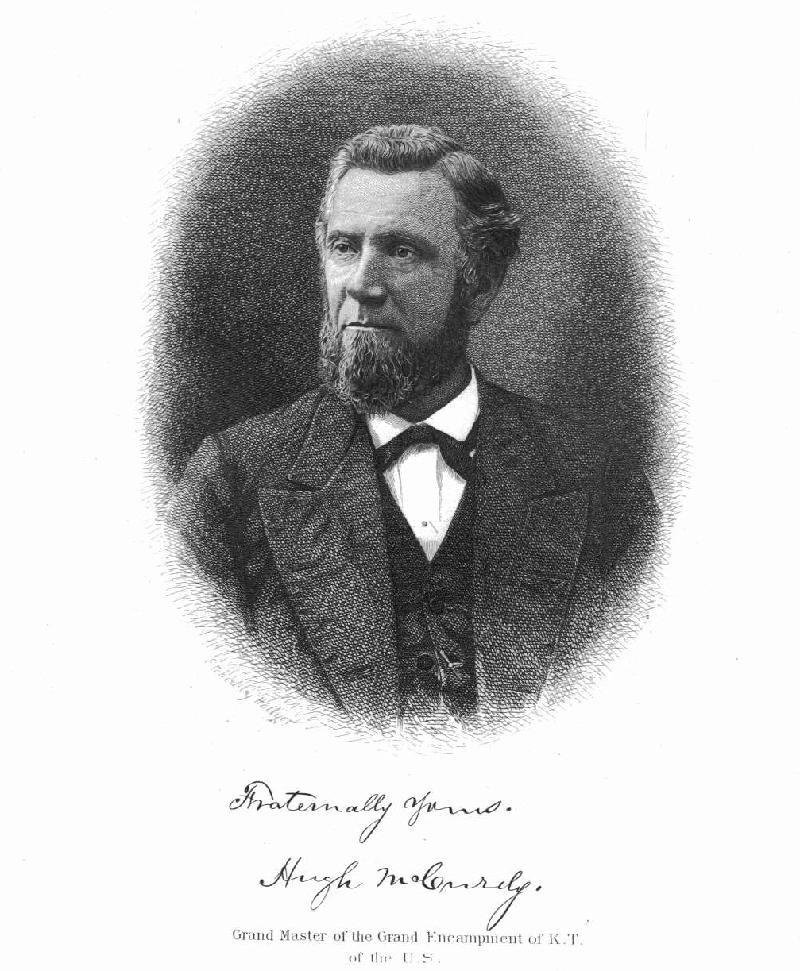 BROTHER HUGH McCURDY, 33, was born in Hamilton, Lanarkshire, Scotland, December 22, 1828. When only eight years of age he immigrated with his parents to the United States, and settled for the time at Birmingham, Michigan, which the people of the east then regarded as the very frontier of American civilization.

His first stroke for fortune was made in the humble capacity of cooper's apprentice. Certain broadminded men, then prominent in that part of the Territory, noted early the sturdy lad, and by their countenance (though he did not ask for pecuniary aid) he found, or rather made, an opportunity to lay the corner stone of an education. With this purpose dominating his every hope, he enrolled himself among the pupils of a select school at Birmingham. While pursuing his rudimentary studies here he attracted the notice of a gentleman, who had in some way discerned the ambitious student's pluck and perseverance, and by him was advised that the law was the field in which he ought to sow his best efforts if he would reap any commensurate harvest.

In 1847 he had so far advanced in general acquirements that he was chosen to teach the village school in Birmingham, and during the following year he held a like employment in the neighboring village of Royal Oak. In addition to his work of teaching he took up the study of the classics. Later, with the little money he had saved out of his scanty salary, he bought the necessary books, and after surmounting what sometimes, no doubt, seemed insuperable obstacles, he found himself domiciled at the Romeo Academy. He next entered the office of the distinguished law firm of Baldwin & Draper, of Pontiac, and in 1854 was admitted to the Bar of Michigan. With characteristic foresight, the young man took a long look ahead, and perceiving the effects, which must be produced through the extension of the railroad, (now the Detroit, Grand Haven and Milwaukee,) he moved to Corunna, the county seat of Shiawassee County, where he has lived continuously since.

Shortly after his removal to Corunna the office of prosecuting attorney became vacant by resignation of the incumbent, and Judge Green appointed him to fill the vacancy. In the fall of 1856, nominated by the democratic convention for prosecuting attorney, he was elected by a handsome majority. In 1860 he received the nomination of his party for judge of probate, and although the county gave a majority for Lincoln and the republican state and county ticket, he ran more than a thousand ahead of his party vote and was elected by a large majority.

He was elected to the state senate in 1864, and immediately took rank as one of the most active and influential members of that body. Although the county of Shiawassee has been a strong republican county ever since 1856, he was re-elected prosecuting attorney in 1874. For many years he has been a member of the board of supervisors from a strong republican ward-frequently elected without opposition-both parties nominating him.

In 1865 Judge McCurdy established the First National Bank of Corunna, of which he was president from its organization down to 1873, when he sold out his stock and withdrew from the business. BROTHER McCurdy's Masonic life covers a period of over forty-two years, he having been initiated in Birmingham Lodge, No. 44, August 5, 1850. Ten days later he was passed and raised to the degree of Master Mason. On the 15th of July following, he formed Corunna Lodge, No. 115, became its first Master and served in that office for six successive years. He received the Chapter degree in Washington Chapter, No. 15, at Flint, and was exalted to the Holy Royal Arch February 5, 1864. On January l0, 1865, he established Corunna Chapter, No. 33, and became its first High Priest, in which chair he remained also for six consecutive years.

On January 12, 1869, he was elected Grand King of the Grand Chapter of Royal Arch Masons of Michigan; on January 12, 1870. Deputy Grand High Priest, and on January 10, 1871. Grand High Priest. On January l0th, 1872, he was elected Deputy Grand Master of the Grand Lodge of Michigan, and a year later, January 17, 1873, was unanimously elected Grand Master of the Grand Lodge, receiving the total vote of 832 representatives. It was while Grand Master of the Grand Lodge of Michigan that BROTHER McCurdy had the honor of laying the corner stone of the New State Capitol at Lansing, October 2, 1873. The Orders of the Temple were received by BROTHER McCurdy in Fenton Commandery, No. 14, at Fentonville, Mich., March 13, 1866. On June 2, 1875, he was elected Grand Generalissimo of the Grand Commandery of Michigan; on June 7, 1876, Deputy Grand Commander; and on May 9, 1877, Right Eminent Grand Commander of the Grand Commandery of Michigan. On December 18, 1866, BROTHER McCurdy received the Council degrees of Royal and Select Master in St. John's Council, No. 21, at St. John's, Michigan.

On January 17, 1875, he instituted a Council of Royal and Select Masters in Corunna, became its first Thrice 111. Master, and continued to so serve that Council for eight years. On January 21, 1879, he was elected Most Illustrious Grand Master of the Grand Council of Royal and Select Masters. The Consistory degrees were received by BROTHER McCurdy in the Detroit Consistory, on December 19, 1866, and on November 18, 1873, he received the 33, and was created an honorary member of the Supreme Council of the Ancient Accepted Scottish Rite for the Northern Masonic Jurisdiction of the United States at Chicago, Illinois. On September 18, 1878, he received the Royal Order of Scotland at the hands of 111. Albert Pike, session of Supreme Council, Milwaukee, Wisconsin. On September 18, 1879, he was appointed Grand Marshal of the Camp in the Supreme Council, which office he held until Sept. 27, 1883, when he was elected and crowned an Active Member of the Supreme Council, ad vitam. August 19, 1880, he was elected Grand Senior Warden of the Crand Encampment of Knights Templar for the United States, at Chicago; on August 23, 1883, Grand Captain General of the G. E. K. T. of the United States, at San Francisco, Cal., and on September 23,1886, Grand Generalissimo of the G. E. K. T. of the U. S., at St. Louis, Mo.

On March 27, 1884, he was elected 111. Commander-in-Chief of Detroit Consistory of Detroit. BROTHER McCurdy is likewise a Noble of the Mystic Shrine, and holds membership in Moslem Temple, Detroit, Michigan. On October 8, 1889, at the session of the Grand Encampment K. T. at Washington, D.C., Brother McCurdy was elected R. E. Deputy Grand Master, and at the Twenty-fifth session at Denver, Col., Aug. II, 1892, M. E. Grand Master of the G. E. K. T. of the U. S. As a Masonic orator and jurist BROTHER McCurdy occupies a conspicuous place in the first rank. He has probably delivered more speeches and addresses on important Masonic occasions than any other man in the fraternity in Michigan. They have long been known as clever and brilliant productions-poetic, humorous, witty, scholarly and classic.

In the field of Masonic jurisprudence he stands alone in Michigan, while it is no unusual experience to have his opinion in matters of Masonic law sought by high authorities beyond the limits of his own State. It goes almost without saying that his written opinions are universally regarded as law; and that they are quoted and regarded by the Masonic world as sound, is only one of many assurances of the high value that is placed upon them by the Order. Such is the proud record of the man and brother whom the fraternity with pride call " Our Hugh." He has proved faithful in all things and lives today warmly housed in the hearts of the Craft, a delight and an honor.