Mitchell Corporation

History and Production Record Estimates

Mitchell-Bentley
Ionia and Owosso, Michigan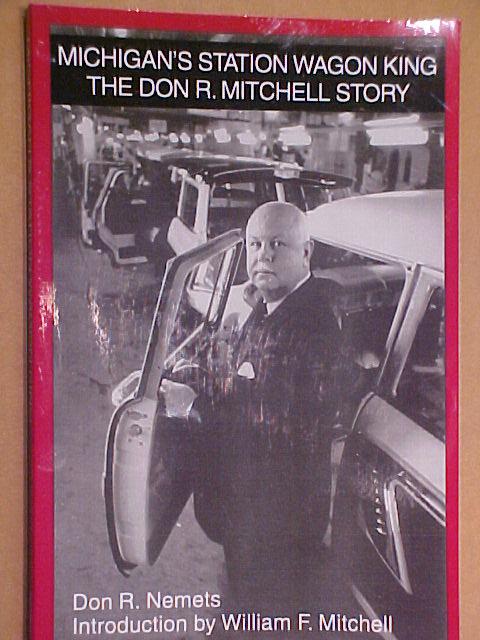 ---
---
Don R. Mitchell was born on July 24, 1903 and raised in Owosso, Michigan. In his early years he started a lawn care business with boyhood chum, Thomas E. Dewey, who would later become Governor Dewey and twice ran for President of the United States. During the 1930's, Don started his own company called Mitchell Sales and represented several automotive related manufacturers.
Mr. Mitchell became sales manager for the Ypsilanti Reed Furniture Company in 1938, which was the largest manufacturer in Ionia, Michigan. Don was quite a salesman and an innovative engineer. The company had up 2,400 employees including some from the local state prison in which it manufactured maple and rattan furniture, however it was still in financial trouble. He formed another company in Owosso called Mitchell Plastics which manufactured many plastic trims and automotive emblems for several automobile companies.
Don built a "Hi-Speed" gas station downtown Owosso in the 1940's
Mr. Mitchell helped to expand the furniture business into the automotive field, especially truck and bus seating. He became president of the furniture company in 1942 and the name was changed to Ionia Manufacturing Company since the furniture manufacturing was almost non exsistant. During World War II, the plant was kept busy with military contracts making jeeps and seats and tarpaulins.
In the early days of the auto industry, General Motors, Ford and Chrysler contracted out body work to body builders such as Briggs, Murray, Fleetwood, LeBaron and others. As the time went by, the Big 3 continued to produce more parts in-house and these body builders faded into the history books.
However, after the war, Mitchell secured contracts for wooden station wagon bodies for Pontiac, Olsmobile, Buick, Chevrolet and Chrysler. These companies were experimenting with station wagons and did not want to spend alot of money on manufacturing until there was enough demand. So these bodies were built in limited quanity by Ionia Manufacturing.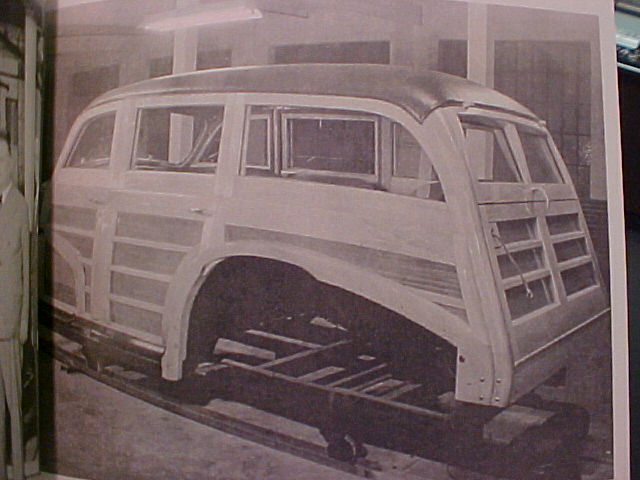 In 1953, Owosso Manufacturing and Ionia Manufacturing Company merged to become the Mitchell-Bentley Corporation under the leadership of Don Mitchell. Calvin Bentley who had served as President of Owosso Manufacturing for many years was well beyond retirement, saw the energetic vigor of Don Mitchell and made him President of the new company.
Don Mitchell sitting in the Panther in front of the Ionia Plant building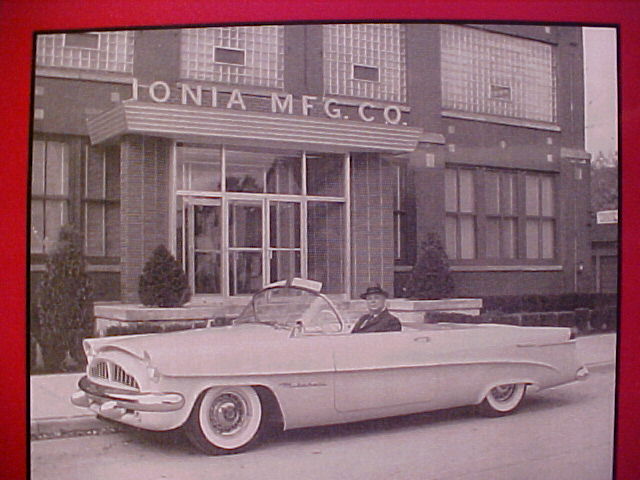 The Panther was a prototype developed for the Packard Automobile Co. Mitchell assembled the trim on these cars, but the bodies were made at Creative Industries of Detroit. There were a total of four of these cars and only one had a hardtop. THAT car was the real M-B Panther. But ALL were convertibles. The hard top was removable.

More automotive contracts were negotiated and Mitchell-Bentley became a major supplier of quality automotive interior trim parts including seat cushion covers, door trim panels and bucket seats. Certain Lincoln Continental bodies and early Corvette bodies were built at Owosso.
---
PRODUCTION ESTIMATES
Ionia and Owosso Plants
---
1938 and 1939.....15 prototype station wagon bodies built
1942.....327 wooden station wagon bodies built for Buick
1946....2,500 station wagon bodies built for Pontiac
1946.....900 station wagon bodies built for Chevrolet
Oct. 1 to 6, 1946....."Ionia Body" on display at General Motors building Detroit
1947.....554 station wagon bodies built for Chevrolet
1946 through 1948....18,791 station wagon bodies built for Pontiac
1949 through 1953....12,791 station wagon bodies built for Buick
1950......Glaspar...fiberglass....predecessor to the Chevrolet Corvette
1953....last year for wood trimmed station wagon bodies
1953....first to put gold plated trim on cars...Kaiser Golden Dragon
1953.....Bamboo vinyl tops....Kaiser Dragon
1953.....503 Nash-Healey hoods?......not verified
1954.....Dodge Granada concept car....first all fiberglass car
1954.....Packard "Panther"...4 concept car interiors
1954......8,000 bucket seats sold to Dodge truck (first bucket seats in trucks)
1954 through 1964......139,344 all metal station wagon bodies built for Buick
1957 through 1964......143,696 all metal station wagon bodies built for Oldsmobile
1955 through 1958.......83,335 all metal station wagonbodies built for Mercury
1955 through 1957.......Owosso plant builds Continental Mark II bodies
1959 Edsel trim
1959 through 1964....some Corvette bodies.....not verified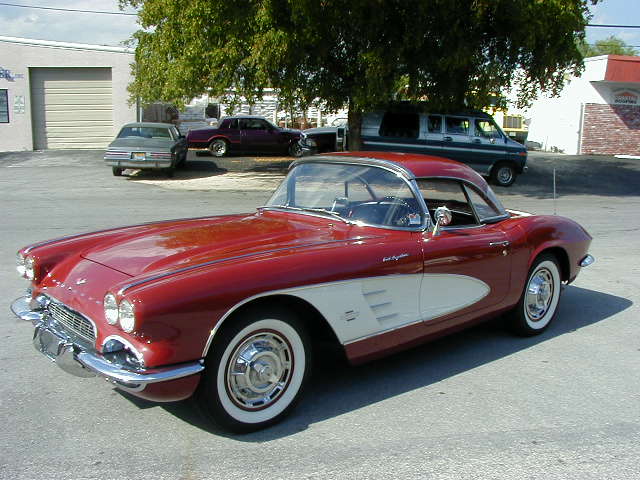 1961 Corvette
Owosso built fiberglass body
---
On the night of February 11, 1955 a devastating $2,000,000 fire swept through the automotive trim plant of the Mitchell-Bentley Corp., the occupant of the old Owosso Manufacturing building, which was a four-story brick structure that occupied an area equivalent to six square blocks.
A new plant was quickly built near the old factory building on Chipman St. In about 1964, the Ionia plant was sold to A.O. Smith Corporation. Don's son Bill assumed company control and later changed the name to Mitchell Manufacturing Group, Inc. which grew to include several plants through out Michigan, but in 1999 all operations ceased, ending one of Owosso's oldest manufacturing concerns.
Don Mitchell's son Bill assembled a small museum to exhibit examples of the companies work. Part of the old Owosso plant was remodeled and in 2000 was home to about 60 vehicles. The museum is rarely open to the public.
---
Woodie Wagon History
---
Woodie station wagon bodies were used generally because wood was cheaper than metal before the World War II era. After the war, the automotive industry realized the demand for the station wagon was increasing, but not enough demand to warrant in-house manufacturing. The cost and time involved in hand-making the wood bodies were too great for Woodies to be made in any great quantity. Thus, body builders like Don Mitchell had their impact on the 'station wagon craze'.
Sales of Woodies had peaked by the early 1950s and the all metal station wagon bodies were on the rise. Wood trim was bolted to metal bodies to give it the Woodie feel and simulated wood trim was being tested as early as 1950 by GM.
The 1953 Buick Roadmaster was the last real American Woodie, actually relying on wooden construction of structural components; the entire rear deck and window frame are wooden.
---
The Shiawassee Independent of Novemeber 2001 reported that the Mitchell Corp. headquarters on Chipman St. in Owosso, MI has been put up For Sale. Built in 1957, the 180,000 square foot facility sits on 20 acres and the asking price is $3.7 million. The listing notes that a buyer could also contact Owosso city officials about an adjacent 20 acres.
In Dec. 2002 the factory building was sold to Tuscarora Inc. of Chesaning, MI for $2,200,000.00
---
Mitchmate III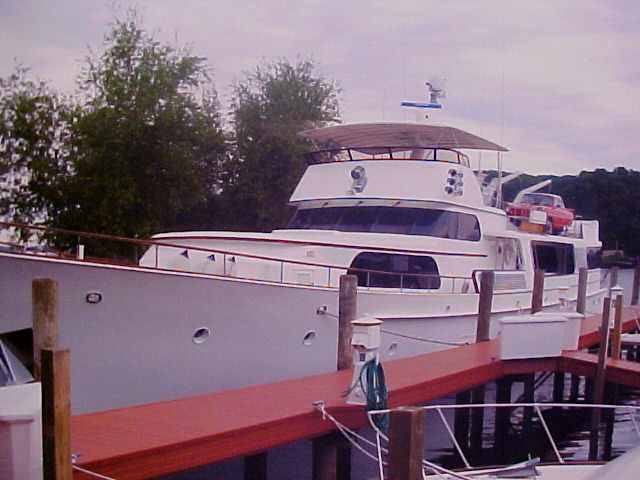 According to Boats Info World dot com, the Mitchmate III was owned by the CHRISTINE L. MITCHELL TRUST dated June 8, 1972.

When built in 1973, the Mitchmate III, measured 105 ft. and weighed 175 tons.

In 1991, it was stretched to about 115 ft., refitted and upgraded by Palmer Johnson.

The ship was offered for sale in 2011 for $2 million.

Kept at a Frankfort, Michigan marina, it was at one time valued at $3 million and was offered for sale in the spring of 2014 for $839,000.

This classic Aluminum Hull Motoryacht was built by De Vries Lentsch shortly after they departed the Feadship Federation. The ship been in the Great Lakes (freshwater) since 1986. It was stored each winter out of the water in dry heated storage. Featuring 4 staterooms in the guest area and 3 crew staterooms. The Mitchmate III has a huge enclosed aft deck, proper salon, and a formal dining room and the flybridge which includes a control station that is enormous.

According to Charter World dot com..... "The yacht's general design work came from De Voogt Naval Architects. The technical naval architect firm drawings are the products of De Voogt Naval Architects. Motor Yacht MITCH-MATE III received her elegant interior designing from the interior design company of Jane Plachter. In 1973 she was formally launched with accolade in Amsterdam and following sea trials and finishing touches was thereafter handed over to the owner. Nv Amsterdamsche Scheepswerf G De Vries Lentsch Jr completed their new build motor yacht in the Netherlands. A reasonable feeling is brought about with a widest beam (width) of 6.7 m / 22 feet. With a 1.68m (5.5ft) draught (maximum depth) she is shallow. The material aluminium was used in the building of the hull of the motor yacht. Her superstructure above deck is built from aluminium. In 1991 further refitting and updating was also performed.

Two 630 HP or 464 Kilowatts Caterpillar engine model D346 diesel gives the combined power of 1260 HP /927 KW. It has a cruise speed of 11 nautical miles per hour with a top Speed of around 13 knots. The approximate range of 2000 at a speed of 11 knots."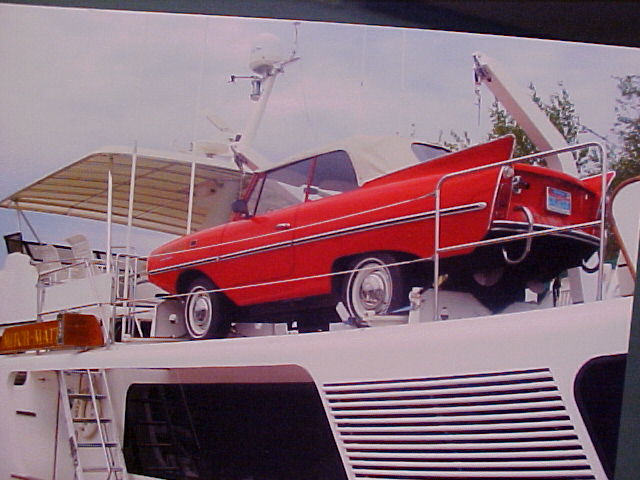 The amphibious car can be lowered into the water in an emergency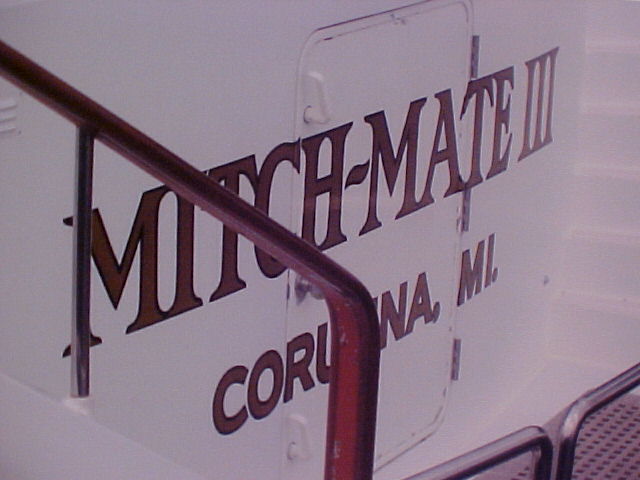 Of course, the closest Great Lakes marina to Corunna is about 60 miles away at Bay City, Michigan, so it must be Bill's humor that boasts CORUNNA as the ship's home port.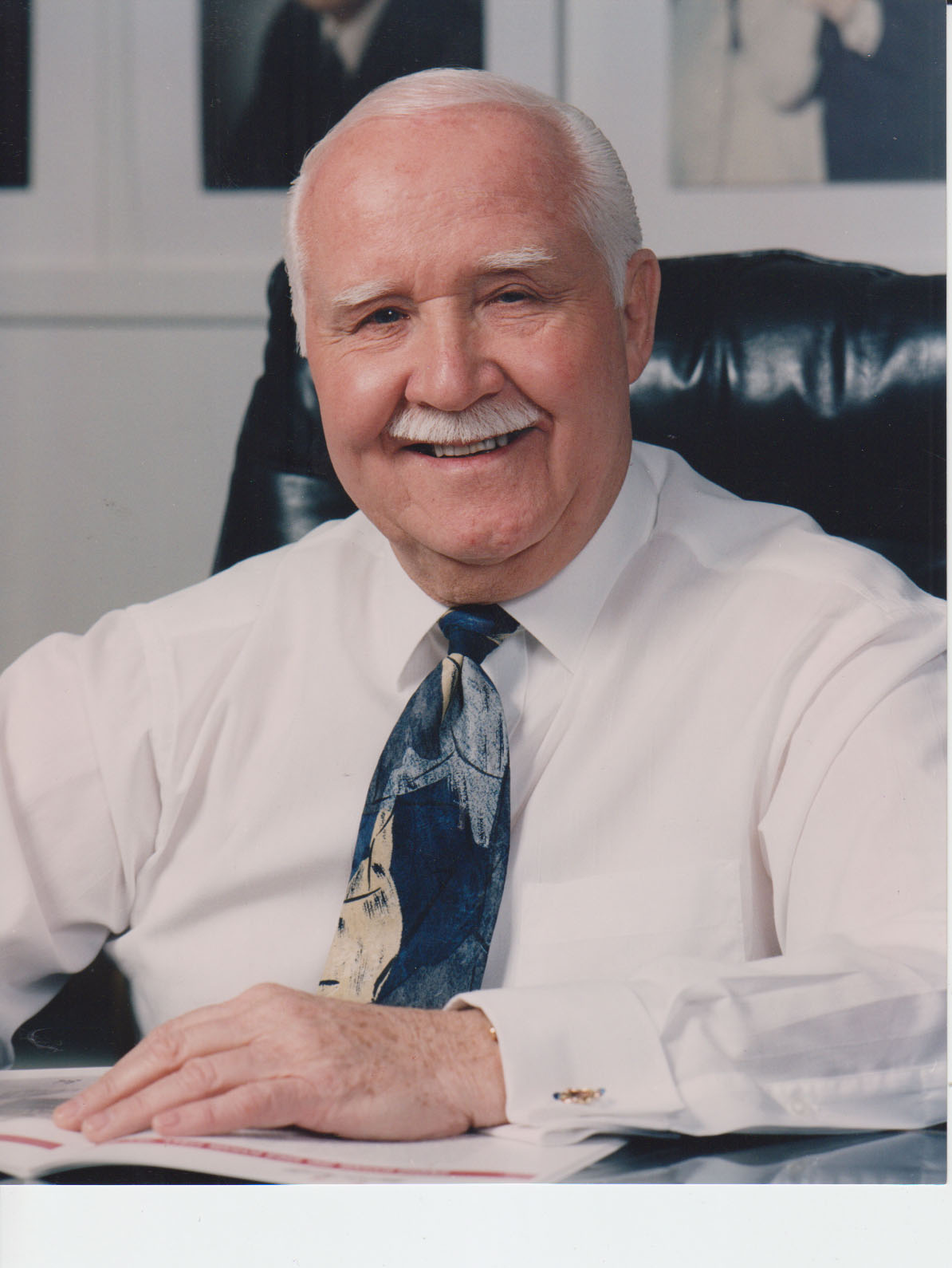 William F. "Bill" Mitchell, formerly of Corunna, died Tuesday afternoon in his home on Crystal Lake in Beulah, Michigan April 22, 2014. He was 87.

Following the death of his father, Don, in 1972, Bill Mitchell took over management of the Mitchell Corporation, manufacturer of trim for automobiles and boats. At its height, the corporation had plants in Owosso, Ludington, Benzonia, Elberta, Clare and Cadillac, along with other facilities in Texas, Florida and Indiana.
---
Mitchell Auctions
Bill Mitchell's car collection, household items from the Mitchell farm on Kirby Road and the Don and Metta Mitchell home/contents on Oliver Street in Owosso were sold in August of 2014 at auction by Troy Crowe of Sheridan Auction Service of Owosso.
---
Mitchell Car Collection Auction
According to an article in Hemmings on-line:

"When Bill Mitchell scoured the country in the early 1990s to collect examples of every car his father, Don, had a hand in, he had a sizable task ahead of him. After all, Don Mitchell was behind Ionia Manufacturing and Mitchell-Bentley and built numerous woodies, station wagons, concept cars and prototypes for Detroit's automakers from the 1930s through the 1960s.

Bill accomplished his task, and now 20 years later his collection will head to auction. William F. "Bill" Mitchell (no relation to GM design chief William L. "Bill" Mitchell), who died in April at the age of 87, had worked for his father since 1947 and took over the reins of the company in 1972, but it was his father who would ultimately be christened "Michigan's station wagon king" for his successes building the wagon for all of Detroit's Big Three. Don Mitchell, a body engineer by training, but a salesman by trade, worked for a handful of Michigan auto suppliers until forming his own engineering firm in 1932. Four years later, he stepped in to help turn around Ypsilanti Reed Furniture Company of Ionia, Michigan, which he would eventually reorganize in 1942 as Ionia Manufacturing, with himself as president of the company.

Under Mitchell's guidance, Ionia began building wooden station wagon bodies for General Motors in 1938 and then again after World War II, starting with Chevrolet and Pontiac from 1946 through 1948, then Buick from 1949 through 1954. At the same time, Ionia supplied wood body components to Ford for the 1946-1947 Ford and Mercury Sportsman convertibles and to Chrysler for its 1946-1948 Town and Country models. Around 1951, Ionia's designers even took a crack at what would become the M-151 MUTT, though production contracts for the light jeep would ultimately go to other manufacturers.

After Detroit's automakers switched from wooden to metal station wagon bodies, Mitchell continued to supply automakers with station wagon bodies. In 1954, the company produced the Dodge Sierra's four-door station wagon bodies by lengthening the factory-built two-door bodies; it then built all of Buick's station wagon bodies from 1954 through 1964 and all of Oldsmobile's station wagon bodies from 1957 through 1964. "At that time he was the world's largest independent producer of station wagon bodies" said Don Nemets, caretaker of the Bill Mitchell collection.

Mitchell expanded Ionia in the mid-1950s by merging it with the Owosso Manufacturing Company and renaming it Mitchell-Bentley, which would go on to supply automotive trim, build at least most of the Continental Mark II bodies for Ford Motor Company, and experiment with fiberglass automobile bodies.

One of the more prominent of those experiments, the 1954 Dodge Granada concept car, came about due to Mitchell's partial ownership in Creative Industries of Detroit. At about the same time that Chrysler had Briggs produce the Bill Robinson-designed Plymouth Belmont out of fiberglass components - similar to how steel-bodied cars are typically produced by welding together multiple steel panels - Dodge President Bill Newberg wanted a fiberglass concept car molded in a single unit. Chrysler design chief Virgil Exner credited Briggs with styling the concept car, but actual production of the Dodge Granada fell to Creative Industries, which placed it on a Dodge chassis and powered it with a 150-hp, 241-cu.in.

Dodge Red Ram Hemi V-8. After Mitchell-Bentley sold Ionia in 1964, Mitchell reorganized the company again as the Mitchell Corporation, supplying stampings, interiors, and trim. Don Mitchell died in 1972, and Bill Mitchell kept the company going until his death, though he had sold off the manufacturing portion of the company in the 1990s.

The collection he assembled in tribute to his father would go on to become the Mitchell Car Museum - located in a Mitchell-Bentley building in Owosso - and include plenty of Ionia-bodied station wagons, a couple of Continental Mark IIs, a MUTT or two, a Creative Industries-built fiberglass-bodied Packard-powered Panther, a fiberglass-bodied 1964 Buick Wildcat, the restored Dodge Granada, and several Mitchell cars built from 1903 to 1923 in Racine, Wisconsin, by a distant family relative.

Though rarely open to the public - Nemets said it was mostly for family and friends, open to the public only for charity events - Bill Mitchell still curated it more like a topical museum than like a warehoused collection. While Bill Mitchell did sell a handful of cars from the museum before his death - most notably the fiberglass Wildcat and the Panther – 27 vehicles and a few bodies were sold in August of 2014.

Troy Crowe, a spokesperson for Sheridan Auctions, which handled the sale, said the Mitchell family chose not to continue to run the museum because of the costs associated with it.

The auction took place August 20th just down the road from the museum at Baker College in Owosso."
---
LINKS
The Panther was a prototype developed for the Packard Automobile Co.
---