Packard Panther
Owosso, Michigan
---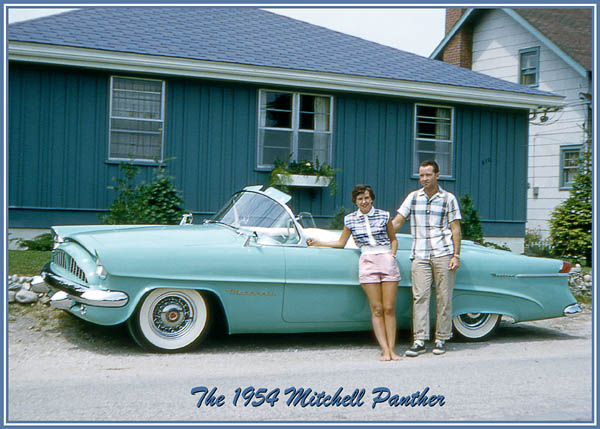 The above photo sports the "Mitchell" badge on the side of the car.
Bill Mitchell, as a young man, in the 1950's.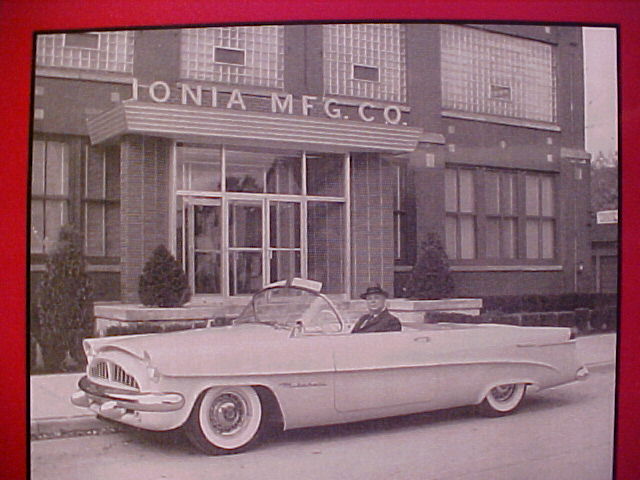 1954 PANTHER CONVERTIBLE ROADSTER
Built as a prototype for Packard Motor Car Co.

ENGINE
* Type & displacement: in-line 8, 212 HP (275 HP supercharged)
* Induction: forced draft carburation with McCulloch superchargers

DRIVETRAIN
* Transmission: Packard Ultramatic transmission

BODY * All fiberglass body
* Wheelbase: 122"

Designer Dick Teague first sketched out the Packard Panther design in 1953. Often referred to as the "fabulous fiberglass Panthers," there were only four Packard Panthers ever made. The first two were show cars, which Packard toured across the country. They were produced to convince the Packard Companys own employees, and the public at large, that Packard had inspiring cars. Panther Number One, pictured here, was dubbed, "Panther Daytona."

"The second pair of Panthers one a hard top, the other a convertible - were produced for the two men who headed up the two companies that fabricated the bodies for the cars: Don Mitchell of Mitchell-Bentley, and Rick Terry of Creative Industries. These two Panthers were redesigned with "cathedral" rear taillights.

They all had one-piece fiberglass bodies. The two firms in quick fashion passed the Panther project back and forth to form the individual panels, and then assemble them into one seamless piece. Creative Industries a close competitor to the "Glasspar" fiberglass firm - made the plaster molds for the fiberglass layups, while Mitchell did the final trim assemblies in Ionia, MI.

The Panthers were all roadsters, with just one seat. One had a removeable hardtop. They came at a time when sports car fever was rampant what with the new Corvette, Thunderbird, the Darrin, and even the Nash-Healey. Unfortunately, Packard didn't have the financial wherewithal to put the Panthers in production, so the idea died with these four."
---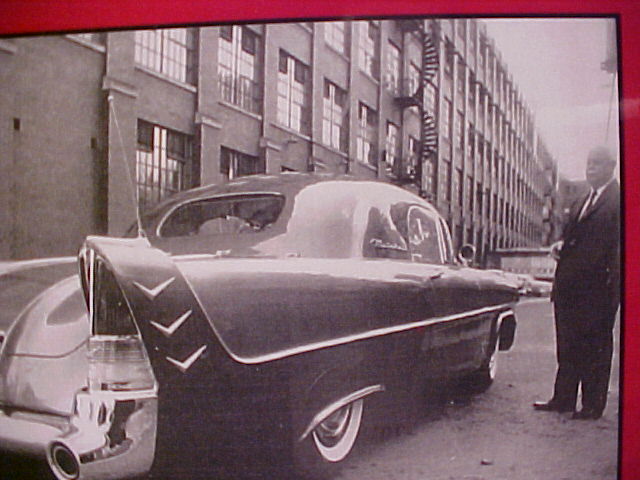 Above is the 1954 1/2 model Panther removeable hardtop with larger tail fins
---
---
Thanks to Leon Dixon for the following comments made on-line previous to the Mitchell Car Auction
July 9, 2014
A couple of points.
Myth #1
There is a rampant claim that Mitchell-Bentley partially owned Creative Industries, but the principles and family of the original founder steadfastly deny such ownership ever existed. Yet, the story persists.
Myth #2
This is a train that may never be stopped, but it ought to be. The Packard Panther car sold recently on the auction circuit and badged "Mitchell" was never any such thing. No matter who says so. It was simply Packard Panther #1 and was previously owned by Kennard Voyles and I have the history of this car going right back to the factory. This car was officially known as a "Panther-Daytona" in honor of the Panther (#2) that set a speed record at Daytona Beach, Florida. It was never in it's original life ever badged "Mitchell" and it was never owned by the Mitchells–except when it was purchased after Ken Voyles sold it in recent years and suddenly appeared with "Mitchell" badging on it and a new paint job and interior.
There was a real Mitchell Panther, but it wasn't this one. The original Mitchell Panther was redressed several times, then ultimately sold to Duesenberg collector, Homer Fitterling, then eventually came to rest where it is today in the Ralph Marano collection. Period. The Mitchell Panther was never supercharged (as the gray car making the auction rounds) because only the two factory-owned Panther-Daytonas were so equipped. The two Panthers that were in private hands–one to Don Mitchell and the other to Creative's Rex Terry– were never supercharged and both ended up with 1955 senior cathedral tail lights and other mods–the Mitchell was most heavily modified– BY Don Mitchell. Both of these cars today are owned by Mr. Marano. While it is a cute tribute thing that Panther #1 got morphed into being dressed up as "Mitchell Panther" this is just fiction. And even if it was the original Mitchell Panther… THAT car in its first incarnation was painted Danube Blue just like the Granada and it had a while leather interior. It was not all solid silver gray. I have original color photos. The baby blue Panther on the little accessory dream car keys made back in the 1950s was made from the original Mitchell Panther. The only Panther that was originally silver-gray was indeed Panther #1… but it only stayed that way for perhaps a few weeks while it was VERY briefly known as "Grey Wolf II" …after which it (and Panther #2) were both quickly painted bright orangish-red with a red and silver leather interior.
Myth #3
While it has been repeatedly claimed that the Dodge Granada was the "first one piece fiberglass body that could be mounted on a conventional chassis" this can only be true if one ignores the fact that the Packard Panthers were also identical construction… made at the same time… by the same companies. I also notice now that the wheels have been changed on the car today (they look similar to the originals, but they are not and sit with a wider track)… and the outside rearview mirror (which was prominent and considered novel in the 1950s for being built-in) has been completely removed. I have photos during and just after original construction.
Most overlooked fact about Mitchell-Bentley… aside from their production work on the Continental Mark II (not just the body) one of their most overlooked aspects by collectors and vintage car fans was "Body By Ionia." It is one thing to know that they made many GM wagon bodies. But quite another to know that during the 1950s and 1960s when you opened the door on these vehicles and look on the door sill plate it didn't say "Body By Fisher" as GM lovers expect. It said "Body By Ionia." We had one of these cars and it was always a source of wonder when I pointed out the tag on the door sill in the 1960s. I won more than a few bets with folks who swore it HAD to say "Body By Fisher"…
The Mitchell auction contained station wagon body that was just labeled "body". This is actually an original engineering feas/body assembly set-up buck for 1963-64 Oldsmobile wagon–which I believe Creative Industries actually assembled this actual piece. I know they did others like it for Mitchell-Bentley. It would be nice if it finds a home at the GM Heritage Collection or some similar place where it can be saved and truly appreciated.
---
Editor's Note:

Steve Schmidt with the Panther at the Mitchell Museum in 2007

"Mitchell" gold badge on side of car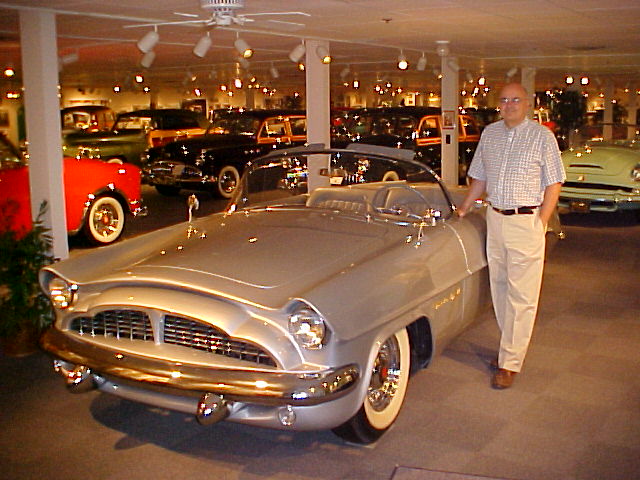 ---
Attempting to set the record straight about the Packard Panther, I emailed Leon Dixon in Jan. of 2013. I sent him the photo above of me and the Mitchell Museum Panther. Thanks to Leon for giving me his thoughts below:

"That car is actually not the Mitchell Panther. It is going up for auction Jan. of 2013 in Scottsdale, AZ at Barrett-Jackson. But it definitely was never the Mitchell Panther.

It was Panther-Daytona #1 and it should be red, not silver-gray. And the interior should be red and silver... not all gray.

The exact original Mitchell Panther was hugely modified in 1955 (a friend worked on these mods then and I have photos)... then it was sold by Mitchell-Bentley back in the late 50s/early 60s to a Duesenberg collector in Indiana. That very car is now in the collection of Ralph Marano in New Jersey. So the car in your photo is for sure not the Mitchell Panther. Somebody just got carried away and stuck Mitchell badges on it.

This car is actually Panther-Daytona #1 and should be painted red. Before M-B's museum got hold of it, this car was owned by a man in Ohio. It was never Mitchell's car and never had Mitchell badging.

Mitchell assembled the trim on these cars, but the bodies were made at Creative Industries of Detroit. There were a total of four of these cars and only one had a hardtop. THAT car was the real M-B Panther. But ALL were convertibles. The hard top was removable.

I have kept up with these cars since they were new and I wrote the first accurate history on them for the Packard Club in their magazine for Spring, 1984.

Thanks for the photo. Below is the REAL Mitchell Panther today."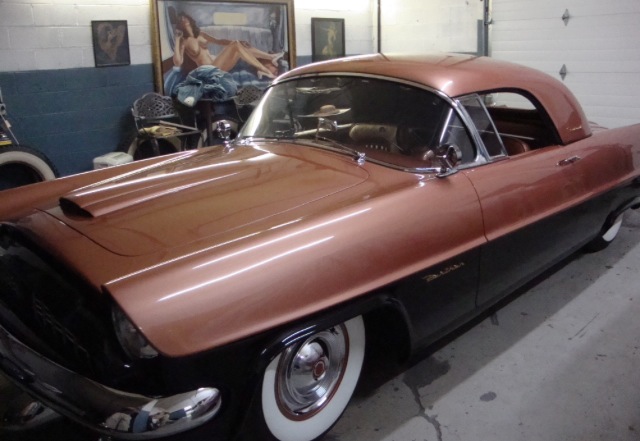 ---
More about Mitchell Manufacturing