Corunna Michigan History
Corunna, Michigan
---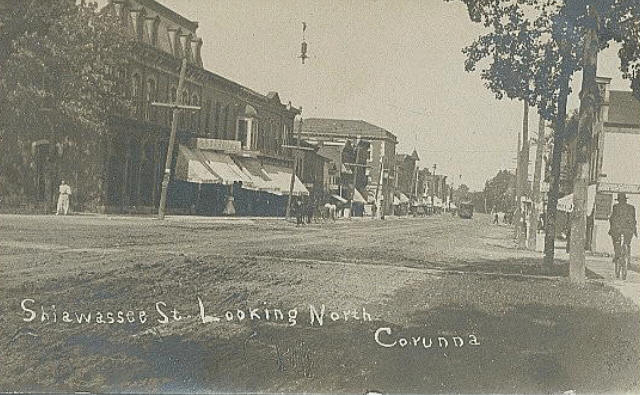 Circa 1919
Corunna is located in eastern Shiawassee County. It became the county seat in 1840 and eventually incorporated as a village in 1869. This town was originally settled in the early 1840s by a group of businessmen called the Shiawassee County Seat Company.
Andrew Mack, a member of the group, named this town after Corunna, Spain, after traveling there to purchase sheep. (Mr. Mack is buried in Corunna, Canada, in which he was also instrumental in developing.)
Located on the Shiawassee River, this picturesque village contains many historic turn-of-the-century houses and an elegantly styled courthouse, (which is definitely worth a walk-thru if you like Victorian architecture).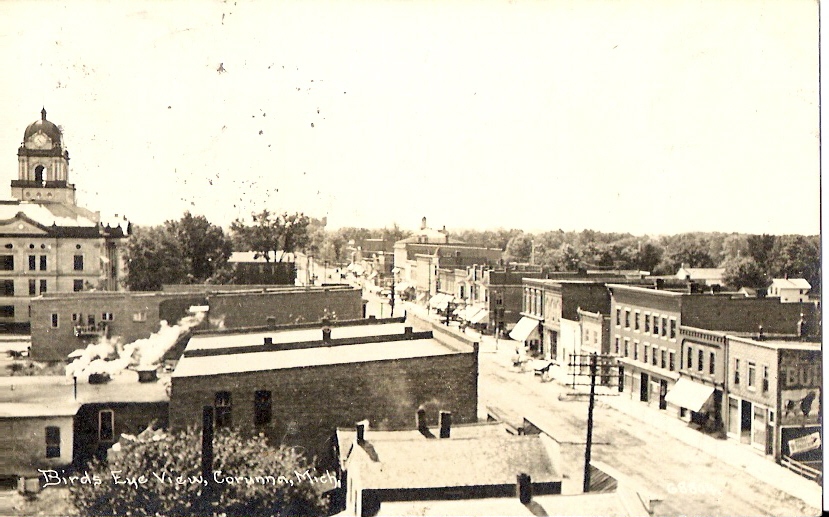 Looking south from the bridge in 1914
---
The dam in Corunna supplied water power for the mill for over 100 years unitl the mill burned in the 1950's. In 2001, a Dam Safety Inspection revealed that it was a 'significant' hazard potential dam.
According to the last inspection, the right abutment wall is in poor condition. A large section of the wall is missing just downstream of the right stopgate and water is flowing through this void. The center pier of the former powerhouse is deteriorated at the water line, but the report states that it does not appear to adequately support the stoplog bays.
The Corunna dam was constructed in the mid 1800s to provide power for a grist mill. No one is certain who owns the dam although the city is taking responsibility for it until it can be determined who the owners are. The dam consists of a 200-foot wide overflow spillway with a 25-foot wide stoplog bay section located adjacent to the right abutment (west side of river).
The dam has a structural height of 10 feet, a normal head of 7 feet and creates an impoundment with a surface area of 17 acres.
The dam has been the site of several drownings in the last 150 years.
Today it remains a favorite fishing spot and there is a small city owned park on the west bank of the river.
---
McCurdy Park has been a favorite park of Shiawassee County residents since it was given to the City in the early 1900s by Hugh and Emma McCurdy. It is situated a few blocks west of the downtown area on the Shiawassee River. This park includes two pavilions, rest rooms, playground equipment, ball field and a reconstructed "village" of historic buildings that have been moved there from other locations for the purpose of preservation.
---
Nearly 50 acres of county owned property exsists within the city limits of Corunna including: the Court House square, the county jail building, the court annex building, the old Corunna Bank building, the Shiawassee County Medical Care Facility, the county Library building, the county road commission facility and the Griffin Home property, 25 acres that was purchased in May of 2000.
---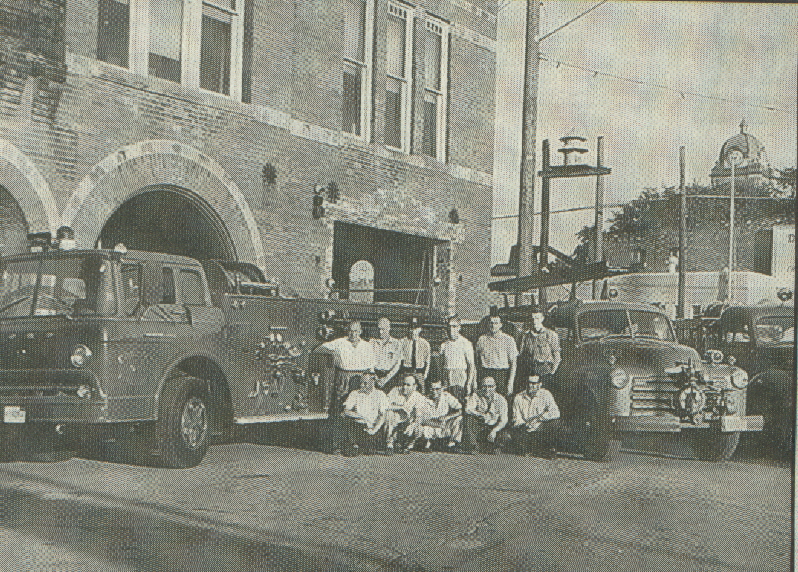 Corunna Fire Dept. and City Hall in the 1950s
The Old City Hall/Fire Hall was replaced with a new building in 1969
---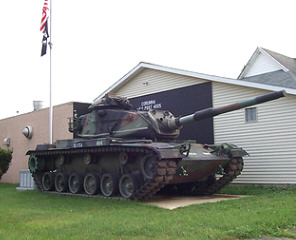 ---
Pictures
Free Methodist Church circa 1920
Corunna Grand Trunk Depot in 1909
Notice the iron finial on the turret.
C. D. Smith's Livery Stable in Corunna in 1890
Sign on right say....Livery Omnibus Hearse Office
Corunna's Iron Bridge early 1900's
Corunna Baptist Church in 1909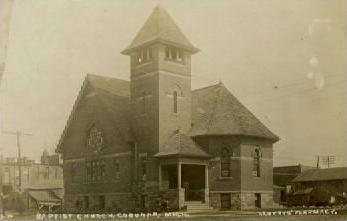 Free Methodist Church....1913....218 S. Shiawassee St.
Corunna Waterworks Plant....1910...Today, site of Corunna VFW.
Corunna Coal Co. letterhead from 1894

---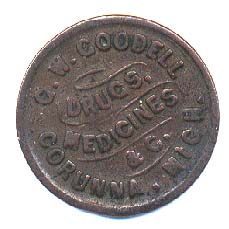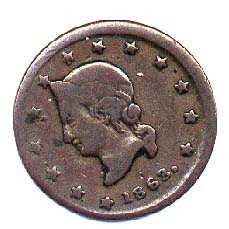 Goodell Drug Token from the Civil War Era
Below is a 1861 token.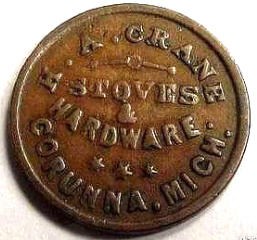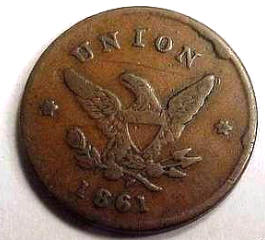 Corunna Masonic Token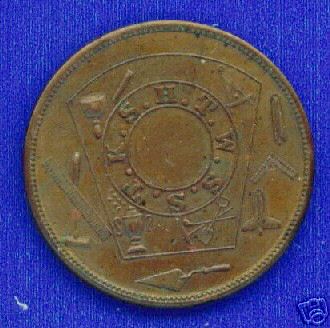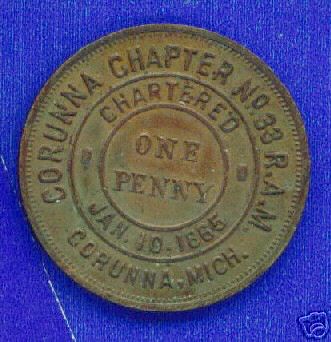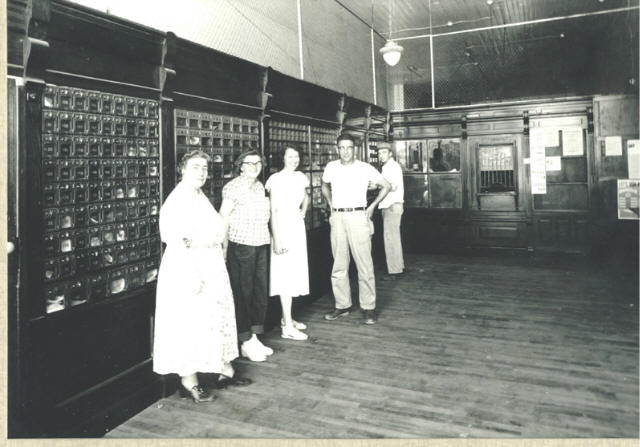 Corunna Post Office.....207 N. Shiawassee St.....Sept. 3, 1953
Left to right....Winnie Vandekarr, Postmaster
Pauline Boursmith Janes, mail carrier.....Charlie Hersch, rural carrier.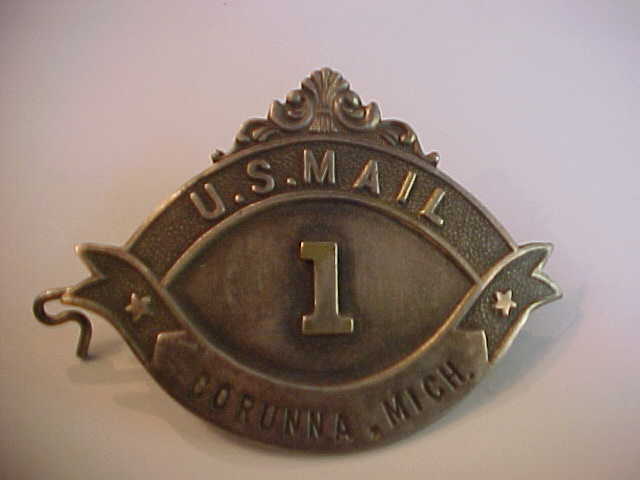 ---
---
Industry
---
U.S. Robe Company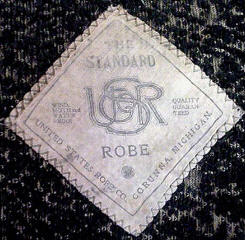 Located on Shiawassee St. between the Post Office and the Court House. This company made Lap Robes and hand muffs in the early 1900's. Above is a label that was attached to a lap robe.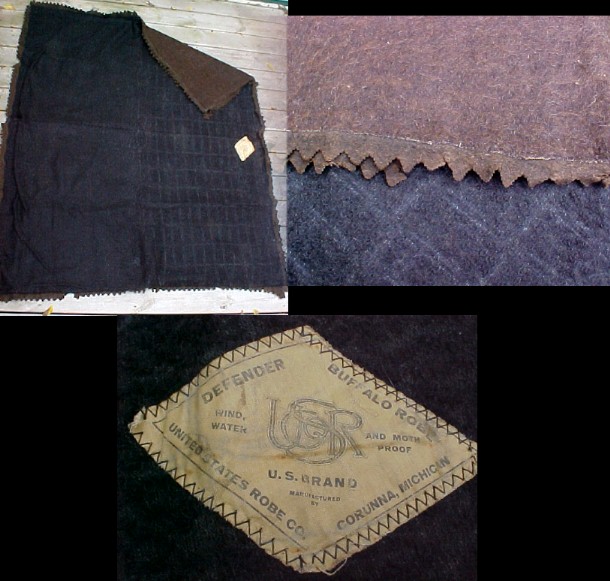 Corunna factory workers....unknown
Could be U.S. Robe Co.
---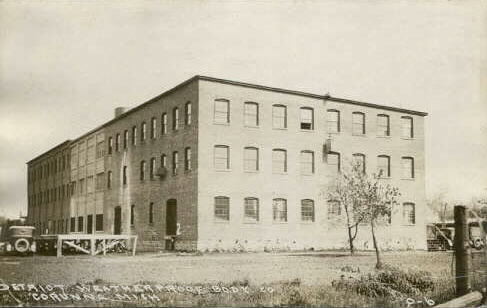 ---
Corunna Manufacturing Company
After liquidating plant A of the Weatherproof Body Corp., Mr. Fred Ritter and Mr. Larry Gardner bought plant B from Allied Motors Industries, who held controlling interest in Weatherproof. Both men were of the opinion that plant B was a good investment and could be operated successfully under careful management. Eventually incorporated as the Corunna Manufacturing Company, Mr. Ritter became President and General Manager, Mr. Gardner served as Sec.-Treas. and Superintendent.

They employed 1000 men and women, who between 1937 to 1942 produced 4000 table model radio and phonograph cabinets and 600 radio consoles per day.

During WWII, the company used plant A to produce 100,000 plywood cases for shipping airplane expendable gasoline tanks. Plant B was leased to a Detroit firm who produced soldiers barracks.

After the war, due to government O.P.A. price controls and faced with a 50% labor rate hike and materials increase, it was impossible to operate profitably, thus ending the production of radio cabinets.
---
Other large Corunna Employers include:

Strawsine Manufacturing....1930 to 1980?

The Corunna Brick Plant....1916 to date.

Bourne Manufacturing .......1952 to date.

Triggs-Miner Corp.......1969 to 1980?

Neway Sales Corp.......1961 to date.
---
History of Corunna Public Schools

List of Corunna High School Graduates from 1871 to 1970
---